New Boku Casinos

4.4/5
Main Benefits
Withdrawal Time: 24 hours

By Tiffany Johnston - New Casino Expert
12 Min Read

Boku is a casino payment provider that allows you to pay for goods and services using your mobile number. Topping up your casino account is safe and anonymous because it can be charged to your mobile phone bill and no credit card or bank account is required. That's why there are several new casinos accepting Boku as a payment method. Find out more benefits and the best new Boku casinos below.
Latest Boku Casinos 2023
New Boku casinos emerge every day as this fast and safe payment option grows to many markets. It is quite popular in the UK but players from other parts of the world are now using it to make casino deposits with a simple SMS message without having to share personal information with the online casinos. Take a look at a full list of the latest recommended Boku casinos below:
New Boku Casinos UK
All casino players visiting can rest assured that each Boku casino site listed above is a British casino. Our system automatically spots your IP address and filters out every casino without a license issued by the UK Gambling Commission. All UK advertising standards for responsible gambling also apply.
Boku Short Facts
| | |
| --- | --- |
| Currencies | All (dependent on the casino) |
| Security | SMS encryption, PIN and identity checks |
| Transaction time | Instant |
| Min. Transaction | Defined by the casino |
| Deposit Fee | – |
| Withdrawal Fee | Yes, if the amount is too low (casino T&Cs) |
Using Boku at New Online Casinos
Nowadays almost everyone has a mobile phone in their pocket, you might be even reading this review on it right now. For that reason, Boku is possibly one of the easiest and ever-present services available for players and consumers in general. Instead of looking for your debit cards or your bank details you can just pay by mobile billing.
The ability to pay by phone bill gives you the extra freedom of always having your payment method on hand. This is by no means tied to mobile casinos, though essentially every casino is today your mobile casino. You can play from your desktop and still pay by your phone bill.
Boku teamed up with more than 250+ mobile network providers to empower you with instant payments in 60+ countries across the globe. It is, after all, the largest player in the mobile payments sector and it gives unified access to Google Play Store, Facebook App Center, Microsoft Windows Store, and a multitude of new casinos accepting Boku.
The Pay by Phone payment option is mastered by Boku and they remain a top player. The simplicity of use is a big win for Boku; you only need a mobile phone number with credits to make payments. It doesn't require you to enter your bank details or your credit card information since Boku is integrated with hundreds of carriers, who instantly bills all payments.
Boku even goes beyond to offer mobile wallets as another digital payment method that has gained popularity in certain markets. Mobile wallets work similarly to carrier billing as the wallets are linked to a mobile number and its prepaid balance can be recharged using various funding sources, including cash, so users don't need a credit card or bank account to pay.
Advantages of Boku
The advantages of Boku are incredibly impressive. It's easy to see why this payment method has gained the foothold it has. Here are the key advantages of using Boku:
Zero fees
Instant transfers
Increased security
Mobile friendly
Extensive markets
Zero Fees
Yes, you read that correctly – there are no fees. The money that you send is the money that you get. The fees which apply are all passed on to the merchant and not the player. This means that the casino should be absorbing any fees associated with using Boku as a deposit method. From the players' side, they can just deposit and play free of any nasty little reductions in their account funds.
Instant Transfers
Funds are transferred to your casino bankroll on credit and then taken from your phone bill or the credit on your phone at a later date. This means that you aren't waiting days for your money to arrive, and you can get straight to the casino games which are a major plus point for any player.
Increased Security
You don't need to give up your credit card details, or any sensitive information. Plus a verification SMS acts as two-factor verification to ensure that no one else is depositing from your personal phone number.
Mobile Friendly
All transactions are verified on your mobile device, which is great for the growing market of mobile players and matching mobile casinos out there. This payment method is custom designed to make the most of mobile devices, it's great for players who enjoy playing on the go.
Extensive Markets and Currencies
Boku is connected to over 300 mobile carriers around the world. They have acquired companies and cut all kinds of deals to expand into over 60 markets. Boku casino payments can be used in any country or currency providing there is a mobile carrier that supports the service.
Disadvantages of Using Boku
Despite the numerous advantages, there can be a few downsides to be aware of when using a mobile payment provider like Boku. The key negatives can be:
No withdrawals
Maximum deposits
Network issues
Passing on fees
No Withdrawals
Carrier billing only works for one way payment at the moment so this is an issue for all mobile payment providers right now. You need to consider how you are going to get your money back before you think about using it to deposit. The best solution is to have a solid withdrawal method set up and verified (i.e. a debit or credit card) before you start using this service to any extent.
Maximum Deposits
With Boku, there is a maximum deposit limit of €30 per day. This can get in the way for some of the more serious players who are looking to play big at their online casinos. Using cookies, the service tracks you across all browsers to maintain its deposit limits so there's no chance of you exceeding the limit by using different devices.
Most carrier billers have a limit, but these limits are usually set them a little higher than the one imposed by Boku. Hopefully, this limit will increase in the future to open up this payment method to more serious online casino players.
Network Reliability
SMS is sometimes not the most reliable service going. Messages can get lost, and that can lead to all kinds of uncertainty and confusion for both the player and the casino. As the liability lies with your network provider, it's going to be them whom you'll need to contact if you need support.
Fees
As mentioned in the benefits section above, one of the major plus points of Boku is the lack of fees when topping up your casino bankroll. Unfortunately, some online casinos have taken it upon themselves to try and pass on the fees they should be absorbing. However, this is pretty uncommon and we have found that most casinos just absorb the fees charged by the mobile payment provider.
How to Deposit with Boku?
To deposit funds into your new online casino account is fast and secure but you have to first make sure that your casino accepts Boku as a valid payment gateway. It will be under the pay by phone option most probably. After making sure that your new casino accepts Boku, go to the cashier's page of your casino and choose the deposit amount, insert your number and confirm.
Pre-paid or Billed Phones with Boku
Even if you don't have a billed phone you can still benefit from it the same way. The charge is deducted from the balance on the phone account at the time of the transaction. If you do not have sufficient funds, your transaction will be declined. Some carriers require a minimum balance in addition to the amount you want to deposit into your casino account.
Please note that some carriers, mostly in the US, will not support prepaid phones. These are Verizon, MetroPCS, Straight Talk, Cricket or AT&T.
Pay By Boku in a Casino
With just a few steps you can fund your account in any casino that accepts Boku as a payment method. These are:
Log in to your online casino account
Go to cashier/deposit page and select Boku
Choose the amount and insert you phone number
Confirm by replying with 'Y' and you're good to go!
How to Withdraw with Boku?
That's where Boku falls a bit short, which is fine because they couldn't be perfect, right? Since you're billed by your carrier or pre-paid balance, there isn't a way to request a withdrawal back to your credits. In this case, the casino will suggest or at least allow you to choose another payment method to receive your winnings.
However, since they now offer an e-wallet option, this might change in the future, allowing you to request a withdrawal to be sent back to your Boku wallet, from there you can use it again. Additional checks might take place to make sure you're safe and it's not someone else pretending to be you.
How Safe is this Payment Method?
Boku uses encrypted servers and systems to store only what's necessary to complete the transactions and also apply rigorous authentication methods to any data passing through their servers, on top of the cards and banks' protocols.
They monitor the transaction to help prevent fraud, email phishing and identity theft. Just make sure no one has access to your PIN code used to log in to your Boku account and you'll be fine.
Boku Authenticate
This feature protects you at any Boku casino against account takeovers (ATOs) that target your phone number. Instead of sending one-time passcodes (OTPs) that can be stolen or forcing users to implement complicated app-based solutions, Boku casinos authenticate and verify a mobile number ownership directly on the device by using its built-in connectivity to the mobile operators' wireless network. The solution is both seamless and secure for all casino players and general customers.
Boku Detect
The company constantly try to identify suspicious phone numbers that may either be fraudulent or compromised without you even knowing. If you have a phone number associated to a new Boku casino, they can monitor it and see if the phone number has recently been reassigned to a new SIM or if the phone number is a virtual or a forwarded number. By checking various real-time phone number characteristics, Boku can help you determine whether any fraudulent transaction is taking place and protect you against it.
Any Extra Features?
Boku also offers mobile wallets as another digital payment method that has gained popularity in certain markets. Mobile wallets work similarly to carrier billing as the wallets are linked to a mobile number and its prepaid balance can be recharged using various funding sources, including cash, so you don't need a credit card or bank account to pay.
Customer Support
There's a good amount of information that can be found around the website, including a FAQ with most of the issues you might encounter and a Community, which is a forum with other users and they have a 'Submit a Request' link, where you can send them an email. If you're logged in you can have access to more information and other channels. For non-logged customers, these are the options:
Community Forum
FAQ page
On-site email form
Requirements for Using Boku
It's a good idea to know the specific requirements for using Boku to pay via mobile before you begin using the service.
Let's take a look through what's needed when using this service such as:
Phone type needed
Paying via a landline
Currencies accepted
Phone networks
Do I Need a Specific Mobile Device?
The good news is that you don't need the latest and most expensive mobile device to use Boku as a payment service.
As the system is based on your phone number and SMS confirmation, any handset that can send and receive an SMS can be used. This opens the service up to anyone with a mobile handset so, pull out that old Nokia 3310!
Can I Use Boku via a Landline?
The short answer is: no. The only provider to allow payments via landline is British Telecom (BT) and only for the UK. No other service or pay by phone providers have the ability to accept payments made via a landline right now.
Which Currencies does Boku Accept?
As stated in the benefits section, this payment service can be used in any country or currency providing there is a mobile carrier that supports their service. You'll need to test out the service in your country and currency to see if they provide their service where you live and play. The chances are that they will.
Which Mobile Networks Can I Use With Boku?
The great news is that Boku is connected with over 300 mobile carriers around the world and operates in 60+ markets. That means that pretty much wherever you want to deposit and play, they will have it covered and you can use them to pay by mobile.
Additional Information About Boku
Boku was originally called Vidicom Ltd and was founded in Chesterfield, UK in 2003 by Glyn Smith. Since then the company has grown to become the largest independent carrier billing company in the world.
They have offices in London, the US, Europe, India and several additional operational offices around the globe, from Brazil to Japan. This allowed Boku to offer its services to more than 13 million active users and more around $3.6b in transactions annually. It is clear that the pay by phone method is as reliable as it can be, no wonder there are so many new casinos accepting Boku as a payment option.
Boku Casinos FAQ
There are many reasons to use Boku as a payment method, most outlined above. But easy-of-use, speed of transactions and an added level of anonymity are amongst the top reasons.
It's very safe to use Boku as a payment method as long as you don't lose your mobile phone or don't give it to strangers. If it happens you should block it with your carrier and if possible, inform your casino to block any deposits until you find it or acquire a new mobile phone.
No, you shouldn't pay any fees on most casinos for depositing but as a rule of thumb make sure to confirm if your chosen casino charges any fees, as some repass their fees to players.
You can use any mobile phone with a SIM card, you don't need to own a smartphone or any specific model to use Boku as a payment method, just make sure you have a signal in the area and you are good to go.
Yes, we haven't seen any Boku casino that does not accept cards, vouchers and even some cryptocurrencies.
Yes, you can because Boku only allows deposits. So you will be prompted to select another payment method when you request a withdrawal.
If you want to stick to similar payment methods using only your mobile, you can try Siru Mobile or PayForIt. It is also important to know that not every pay by mobile casino accepts Boku. Follow the links to find a new Siru or Payforit casino. There may be casinos on their lists that are not on this list.
The easiest way to answer this question is to look at the list above, and yes, how large it is will vary based on the country you reside in.
However, beware that there are no restrictions forcing you to only make deposits using Boku on mobile casinos. This option is available for desktop players as well. You don't need to play on your phone to pay with your phone.
Boku mobile payments are extremely easy as you pay by phone bill. Mobile billing is simple, and everyone knows how it works. The amount is changed of your phone bill, and that's that.
No, a casino that accepts Boku as a payment does not automatically match their minimum or maximum deposit amounts. This is entirely up to the individual casino.
No. Boku is only a depositing method. This is also why paying by Boku is restricted to such small sums. It is great for top-ups and other small deposits, but that's it.
The maximum Boku deposit is £30.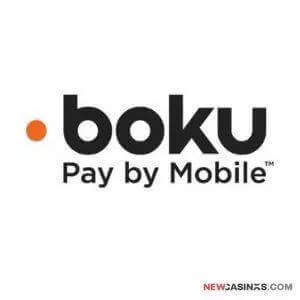 Author
Tiffany Johnston - New Casino Expert
More info on Tiffany Johnston - New Casino Expert