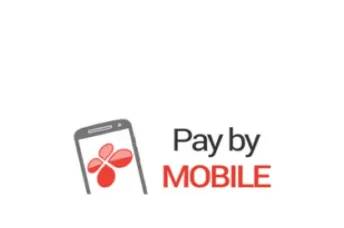 New Pay By Mobile Casinos

4/5
10 Min Read

Paying by phone is an easy way to top-up your balance at new online casinos. You simply send an SMS to the site's phone number, specifying the amount you want to deposit, and it will be charged on your phone bill. Paying through your phone bill is a simple way to circumnavigate all the privacy and fraud risk that comes with handing out your credit card information online.
The pay by phone bill method, called 'carrier billing', is available at the mobile deposit casinos listed below. See our full list of the new casinos that accept Pay By Phone below.
Latest Pay By Phone Casinos 2023
New Pay By Phone casinos emerge all the time as this fast and safe payment option keeps growing. It is a popular casino payment method in the United Kingdom but players from other parts of the world are now using it to make casino deposits with a simple SMS message, without having to provide personal information with the online casinos. Take a look at a full list of the latest Pay By Phone casinos below:
Pros and Cons of Pay by Mobile Casinos
We've put together a shortlist of the most beneficial advantages and some drawbacks of using Pay By Mobile as a casino payment method option:
Cons

No withdrawals

Billing issues
Advantages of Using Pay By Phone
The advantages of choosing to make a deposit using the pay by phone option are quite a few and some players never look back after using this method. This allows you to pay for parking spots, buy goods online and of course, make a deposit to a new online casino that offers a Pay By Phone option. The main aspects of it is:
Speed
Simplicity
Security
Increased Speed
This is where it has a head start when compared to other casino payment methods because it takes just a few seconds to send an SMS request to your online casino of choice and the funds go to your casino account straight away, no delay no hassle to top it up.
It is fast to activate, with no need to find your credit/ debit cards, input your details or try to remember your e-wallet passwords. So, that's less time faffing around with payments and more time playing your favourite online slots or table games.
Pure Simplicity
Pay by phone offers a simple process that players of all ages and experience levels can benefit from. There are fewer steps to worry about (compared to registering a new credit card, for example) and there's no need to download an app or visit another website unless you want to try Boku or Zimpler.
The service even works with a pre-paid mobile phone and top-up credit. Ideal if you are not tied into a mobile phone contract but still want to send phone credit to your online casino account.
Improved Security
Security is a major concern when playing at online casinos. It's always reassuring to know that your details are safe while you're playing away and having fun. It's easy to worry about submitting your personal and financial details to any website, even if it is one you've used for some time. Credit cards, debit cards and e-wallets tend to offer fantastic security, but with pay by phone, there's even less reason to stress.
This payment method is deemed one of the safest because there is no credit or debit card information being sent in the SMS message. Since you don't need to register anywhere (apart from the casino) to use it, hackers or malicious software have nothing to spy on. However, nothing is perfect and mobile networks are targeted by hackers sometimes and can intercept messages and clone your number. Services such as Boku already have in place certain measures to curb this and make Pay By Phone casinos even safer.
Disadvantages of Using Pay By Phone
As with anything in life, there are a couple of disadvantages when choosing this method, such as:
No withdrawals
Billing issues
No Withdrawals
This is where it makes some players not so happy with this payment method. When you send an SMS to deposit money into your online casino account, the casino sends a request to your mobile carrier and it is added to your bill but it is not possible to do it reversely. The best option is to have an alternative payment method to process your withdrawals, such as Paypal or other e-wallets. All Pay By Phone casinos will prompt you to choose a different withdrawal method anyway so that you can get hold of your winnings.
Who knows, this may become an option in the future but with so many mobile network providers and online casinos out there, it's quite a complicated issue to sort out due to the current carrier infrastructure we have nowadays.
Billing Issues
By paying via your mobile phone bill, you are creating debt with your network provider and not an actual payment provider (i.e. Visa, Mastercard etc). The customer service at some mobile phone companies can be lacking, to say the least. If there are any complications with the billing, it will be the phone company that you'll need to deal with and not simply the casino, although they should provide some specific guidance on the matter.
How Can I use the Pay By Phone Payment Method?
Basic Requirements to Pay by Phone
This is possibly one of the easiest payment methods available for online casino players nowadays. It is fast because you simply send an SMS and secure because there is no credit card information sent to providers or even to the casino. Obviously, you need a couple of things to use this payment method:
Mobile phone
Monthly mobile plan or pay as you go plan
Casino account (the casino of your choice)
Getting Started
For this type of payment method very little is needed to start topping up your online casino account. After you have opened your account in one of the new casinos above and you are ready to make a deposit, the casino will send you the number that you have to text whenever you want to top up your account. Let's get into some details.
Step 1 – Choose a Casino
Choose one of the casinos listed above and after you are satisfied with the casino features, sign up and navigate to their payment page.
Step 2 – Select a Method
Next, select the Pay By Phone method you want to use (this may be Boku or Siru, for example).
Step 3 – Enter the Amount
Now enter the amount of money you wish to deposit. Be sure to check the casino's minimum/ maximum deposit limits beforehand (more info below).
Step 4 – Add Your Number
Next, you'll need to input your phone number. This is essential so that your chosen casino is able to bill you and to verify your identity. You'll be asked to follow some specific prompts to complete your transaction, before confirming it. This typically involves sending an SMS to the casino.
Step 5 – Confirmation
The site will send you a confirmation text message once your account has been credited. The time taken for this to happen varies from casino to casino, it could be just a few minutes or a couple of days. The amount of money credited to your casino account will now be added on to your next phone bill and you are ready to play your favourite casino games.
Who are the main phone payment providers?
It's good to know who the main providers are for this service so you can be sure you're using a trusted service when they appear on your phone bill.
Payforit: This is a UK-based spin-off of SimPay who focus on providing Pay by Phone services.
Zimpler: Another popular payment method that lets you deposit by adding your phone number when prompted followed by the unique code they send.
Boku: Boku is one of the most popular providers in the pay by phone space and is an option at many of the top online casino sites.
Is there a Minimum / Maximum deposit limit?
Yes. Minimum deposits for pay by phone casinos differ but usually stand at £5, £10 or £20.
The maximum pay by phone deposit amount tends to be around £50.
The casino should always cover the exact process and requirements in-depth on their sites.
Do I Need a Specific Phone Type?
The short answer is no. You don't need a specific phone to make payments as it's usually enabled via SMS and pretty much all handsets can accept those. If you plan to use a pay by phone apps like Boku or Zimpler, you'll need a smartphone capable of downloading the app. But Boku still allows you to use the service without having to download an app, so even an old Nokia will do the trick if you want.
Can I Pay via a Landline?
It's easy to think that you'll need the latest and greatest handset to enable you to pay via your phone at an online casino. In the UK, that's not the case as you can actually use a simple landline to top up your casino account.
BT is the only UK operator to allow payments by landline, catering to customers who may be of an older generation and less inclined to own a mobile phone. It's also a terrific option for players who misplace their smartphones but don't want to miss out on trying their luck online.
Which Phone Network Can I Use to Deposit By Phone?
The good news is that virtually all mobile phone carriers empower customers with the freedom to pay by mobile phone at a casino. O2, Vodafone, EE, Virgin, Three Mobile, Sky and more offer the Pay By Phone service on their networks. This makes it super easy for you to carry on playing when you are on the go anywhere there's a network signal.
Can I Use Different Currencies?
While you can use this service to pay via any currency in theory, service providers and casinos tend to limit the number accepted, especially because your mobile bill is already set in a given currency, so this might not be an option for some players. Be sure to check your chosen casino accommodates the currency that you wish to use beforehand to avoid disappointment and frustration. Our experts always list all the banking options available with every casino we review. Take the time to check these out before you sign up anywhere online.
Will Paying by Phone Affect my Bonus?
The good news is that most online casinos allow you to make deposits by phone without impacting your casino bonuses. After all, why would casino brands risk losing customers if they don't accommodate their payment requirements and fail to deliver on a tempting deal?
However, some casinos may place restrictions on which payment methods qualify for a specific bonus, which is, unfortunately, the case with Skrill and Neteller sometimes. Be sure to check the terms and conditions of bonuses before you attempt to claim them. If in doubt, contact the casino support team for further advice before you go for those juicy bonus spins on your favourite slot games; better check to not miss out a good offer. It is also the case that wagering requirements usually apply.
Pay By Phone FAQs
1. Why use Pay By Phone at new casino sites?
There are many reasons to use Pay by Phone as a payment method, most outlined above. But easy-of-use, speed of transactions and an added level of anonymity are amongst the top reasons.
2. Is it safe to use Pay By Phone in an online casino?
It's very safe to use the Pay By Phone option as long as you don't lose your mobile phone or don't give it to strangers. If it happens you should block it with your carrier and if possible, inform your online casino to block any deposits until you find it or acquire a new mobile phone.
3. What type of mobile phone do I need?
You can use any mobile phone with a SIM card, you don't need to own a smartphone or any specific device to use Boku as a payment method, just make sure you have signal in the area and you are good to go.
4. Do Pay By Phone casinos accept other banking methods?
Yes, we haven't seen any Pay By Phone casino that does not accept cards, vouchers and even some cryptocurrencies as payment methods. Some of the options may vary depending on your country of residence.
5. Can I deposit with Pay By Phone and use another banking method for withdrawals?
Yes, you can because all of the Pay By Phone options only allows deposits. So you will be prompted to select another payment method when you request a withdrawal.
6. What are the best alternatives to Pay By Phone?
If you want to stick to similar payment methods using only your mobile, you can try Siru Mobile, PayForIt or Boku. But there are plenty of other methods to try such as e-wallets, for example.