A Guide to Live Casino Games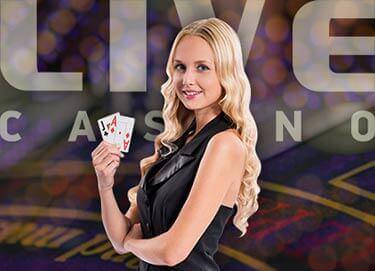 – The Beginnings of Live Casino Games
– How are Online and Offline Casino Games Different?
– How Do you Play Live Casino Games Online?
– Which Games are Available?
– Live Casino Strategies
Live Casinos, otherwise known as live dealer Games, are incredibly popular at online gaming sites. Visit any of the leading virtual casinos, and you'll find a selection of games hosted by live dealers. These are played in real-time, either against the dealer themselves or other players, recreating the sophistication, elegance, and buzz of the brick-and-mortar venue. If you've never played at a live online casino before, you may feel intimidated by interacting with a professional dealer. In the following guide, we'll take a look at live dealer games, their history, the variety of options available, and a few helpful strategies to help you boost your luck too!
12 best new casinos where you can play Live Casino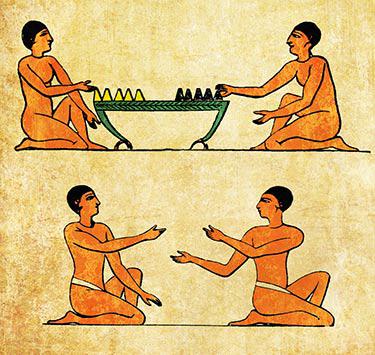 The Beginnings of Live Casino Games
Gambling has always been a social activity. Dating back to the Ancient Greeks and beyond, wagers were placed in public environments and brought people together as they bet on different outcomes. This is true of countless events across the gambling spectrum. Horse racing, football, basketball, darts, boxing, motor racing, and countless others all attract large crowds, with thousands of people gathering at any one time to support one side or another. Even if they have no money riding on a particular result, the thrill of the competition and the craving to know who will win is enough to grab them.
This is equally true of casino games. At brick-and-mortar casinos, hundreds of customers gamble side by side in a vibrant atmosphere, crowding around tables and machines by the dozen. Las Vegas is one of the most popular destinations on the planet, drawing millions of people each year – a large portion of whom are drawn by the world-famous casinos. Online casinos began to appear in the mid 1990s, with the increasing accessibility and affordability of the internet. However, players were left to either play against the computer or faceless fellow players, making it a fairly solitary activity at times. It wasn't until the past few years that live dealers have become available – and it's a trend that's growing. Fast.
Live casino games utilize the latest video-streaming technology to connect customers with dealers in real-time. Sophisticated software provides crisp, clear visuals and sound to make you feel as if you're really sitting at a table with the host themselves. This can take some getting used to, especially for players more familiar with online slots than this more traditional set-up, but it offers a realistic, immersive alternative to playing against an AI. As online video has continued to evolve and improve, live casino games have grown better too. More and more titles are available across multiple websites, and they can be played on mobile devices as well; with just a smartphone or tablet, you can connect to live games 24/7, wherever you are.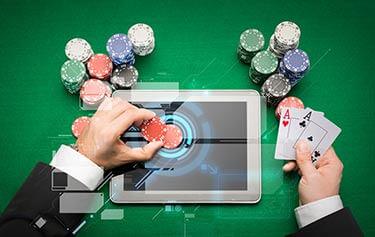 How are Online and Offline Casino Games Different?
As realistic as live casino (or live dealer) games are, they still aren't identical to visiting a casino in person. Like online slot machines and virtual sports, a simulation may not be able to compete with the real thing for some people – but live casino games do an outstanding job of putting you in a believable replication of a classic gaming environment. There are various differences and similarities between live online games and the real thing.
First and foremost, the full atmosphere of a bustling casino is missing when playing online. Certain elements such as the cheer (and cries!) of fellow players, the aroma of the upholstery, snacks, drinks, and dealer's perfume, and the spectators surrounding the table – these familiar elements cannot be faithfully captured online.
Of course, this isn't a problem for many players. Online gaming has been popular for around 20 years now, and with its continued growth, many fans may simply never have even considered visiting a brick-and-mortar casino, let alone step foot in one. For these people, live casino games will be a much more interactive, social activity than they may be used to, and perhaps even encourage them to try their hand at a few games in a land-based venue.
Live new casino games are ideal for seasoned players who may have grown tired of the traditional casino experience, and would prefer to play from the comfort of their living room. The presence of a professional dealer and playing alongside others means they can gradually get used to the online environment, before experimenting with more diverse options.
The live experience gives a more convenient alternative to visiting a brick-and-mortar casino. There's no need to get dressed up, leave the house, arrange transport, pay for drinks, wait for other players to leave the table … you can dive into a game with a live dealer at your leisure. This is incredibly helpful for people with mobility or transport issues, allowing them to have fun and potentially win prizes without hassle.
Live dealer games bridge the dual worlds of land-based casinos and online casinos beautifully, combining the best of both. On one hand, you have an attractive host to interact with, and in the other, you get enjoy total privacy in the comfort of your own home. Gameplay is faster in live casino games too. In real-world casinos, you may have to wait for other players to decide how they want to play their next hand, or for the dealer themselves to deal their cards to numerous other people. Playing online is far smoother and streamlined.
How Do you Play Live Casino Games Online?
In live casino games, the dealer is one of the strongest aspects: they're usually slick, well-trained, and professional enough to handle any outcome.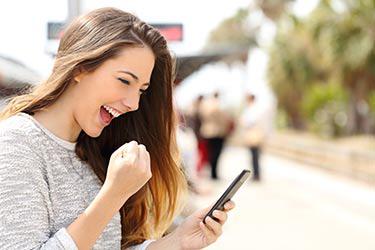 It's their job to manage the full game, just as they would at a brick-and-mortar casino. They will shuffle, deal cards, place chips, and more, speaking to you as you play; a live-chat feature typically enables you to talk to them. As the videos are live-streamed, you can rest assured that your questions and comments will be seen in the moment; this would be impossible if the videos were simply pre-recorded.
To start playing live casino games, you simply need to go to your preferred site and log into your account. The best online casinos offer a wide variety of live-dealer games, including traditional titles that have been popular for centuries. When you choose your game, you'll be connected to the dealer operating at a studio or an actual casino, ready to play alongside fellow players. If you're unsure how to play a specific live casino game, take the time to educate yourself before you join one. This will save time and prevent you needing to catch up as other players enjoy themselves around you.
As mentioned earlier, mobile casinos have advanced significantly in recent years, and playing on your smartphone or tablet is often just as exciting as on your desktop computer. Leading casinos maintain high-quality mobile sites optimized for smaller screens, though not all games may be available. Mobile apps may be offered too, giving you an equally-rounded experience without your needing to access the site through your browser.
Which Games are Available?
There's usually a live casino game for every player, no matter what your personal tastes. Depending on the casino you choose, the selection may consist of just a few, or several, but it's always a safe bet that certain classic games are included.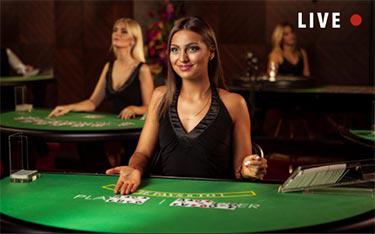 Live roulette is a popular option, and it's perfect for the live format, requiring just a dealer, a wheel, and a table. For many gamers, roulette is the quintessential casino experience – how many movies, television series, and novels have you seen this in? Even if you've never actually played or don't know the full rules, you'll be familiar with the basic gist: bet on black or red, pick a number, spin the wheel.
In live casino versions of roulette, every player is allowed a set period in which to place their bets before the wheel is spun. When this time is elapsed, the dealer will make the turn and call out the winning number – simple! Live blackjack is another staple at online casinos today. This is the standard American form of the game, in which players must get their hand of cards to number 21 or as close to that as possible. Like roulette, blackjack is an ideal fit for live gaming: all you need is a dealer, a table, and a deck of cards. Each player is dealt a pair of cards, as is the dealer. Players view their cards and decide whether to hit or stand depending on the total of their hand. Dealers and other players will take their turn, and the winner will have the strongest set of cards. Other rules may be applicable, depending on the casino and the type of blackjack being played.
Many new online casinos provide multiple variations of each live dealer game, such as European roulette, American roulette, and others. This level of choice helps players enjoy the games they actually want to, and accommodates different levels of knowledge. If you're a seasoned fan with years of experience at diverse gaming tables, a casino offering such a varied range might be your best option. Live baccarat and live poker may be available too, depending on the casino you choose. Explore the range of virtual venues out there, and compare their live casino sections to find the ones that suit you best!
Live Casino Strategies
Looking to improve your chances of success with live casino games? To help you out, we've compiled a selection of helpful techniques to bear in mind next time you hit the virtual tables with a glamorous dealer.
Shop Around for Promotions
Most leading online casinos will offer promotions to attract newcomers – and their live dealer games usually feature. Take a look around at the various options on offer, and go with the strongest contender. For example, you may be able to claim a 100% match on your first deposit, giving you more money with which to play, or a site might provide you with a number of free plays on a specific game. Cashback and other casino bonus will be available too. With the right promotion, you can save money, earn extra chances of winning, and get your time with a live casino off to a great start. Take the time to really explore.
Familiarise Yourself with Key Tactics
As we mentioned earlier, it's a great idea to educate yourself on the rules for each game before you play at a live casino. Not only does this save you having to ask for assistance, it minimises your risk of making mistakes too. While you do this, look into some of the more popular tactics used by experienced players. Different systems are available across different games – such as the reverse martingale, soft totals, pair splitting, and others – and familiarizing yourself with them can help you increase your chances of winning. However, remember that live casino games revolve around chance and randomness. You may be able to ease the odds in your favor a little bit, but you can't always predict the outcome of a hand or spin. Focus on enjoying yourself!
Always Be Polite
Okay, so this may be less of a technique than a rule of good etiquette, but failing to be polite can see you become unpopular – fast. If a game isn't going your way, the last thing you should do is vent your frustration at the dealer. They're highly unlikely to be responsible for your bad luck, and have other players to cater to – losing your temper with them won't help you. Abusive language and insults will not be tolerated at online casinos, so be careful.
Keep Your Bets Small
When starting out with live casino games, be sure to keep your bets small. This minimizes your risk of big losses, and helps you to focus on learning the flow of a game rather than chasing a win out of desperation to keep going! Live casino games are one of the most exciting options at the best online casinos, making the most of the latest technology to combine the old and the new, tradition and innovation. Now that you've read our guide, start exploring and see what options you have!