Guide to New Live Casinos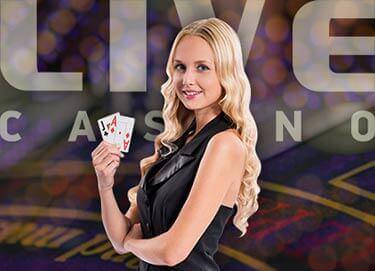 – How to Spot the Best Live Casinos
– How to Play Live Dealer Games
– How are Online and Offline Casino Games Different?
– Popular Live Dealer Games
– Live Casino Developers
– Live Casino Studios – Behind the Scenes
– Where are Live Casino Studios Based?
– What Cameras are Used to Record Live Dealer Games?
– The Technological Resources of Live Casinos
– How Do Live Dealers Operate?
– The Beginnings of Live Casino Games
In live casinos, a real person deals real cards or spins a real wheel and players interact with the game via their computer. The popularity of live casinos really only took off in the last five years and the most popular are the table games like Roulette, Blackjack, Poker and Baccarat. We want to make sure that you are getting the most out of the live casino experience.
Here at NewCasinos.com, we do not just believe that Live Casinos are as close to the authentic casino experience as you will get from the comfort of your own home. We believe Live Casinos in many ways are better.
Why?
Live casino sites have more betting options, tables with lower buy-ins, tables without limits, and you can wager from the comfort of your own home. All you really need is a fast internet connection, and you can get started wagering on truly random casino games as they happen.
New Live Casinos 2020
If you've never played at a live casino online before, you may feel intimidated by interacting with a professional dealer. In the following guide, we'll take a look at live dealer games, their history, the variety of options available, and a few helpful strategies to help you boost your luck too!
The purpose of this guide is to do exactly that, give facts and guidance about live casinos. We want to show you what to look out for when choosing a new site, how it differs from the regular gameplay, and give you a quick rundown on the terminology used in live games. But, first of all we will present you a list with all new live casino sites on the market:
How to Spot the Best Live Casinos
This part is simple, you simply have to focus on the portfolio of the live casino section, i.e. the number of games offered and the number of developers. In this case the more games, a new online casino offers the better. The same goes for the makers of the games, the more the better, but here we would like to recommend live casino games from Evolution Gaming and NetEnt, since they are the driving force in this industry.
How to Play Live Casino Games
In live casino games, the dealer is one of the strongest aspects: they're usually slick, well-trained, and professional enough to handle any outcome.
It's their job to manage the full game, just as they would at a brick-and-mortar casino. They will shuffle, deal cards, place chips, and more, speaking to you as you play; a live-chat feature typically enables you to talk to them. As the videos are live-streamed, you can rest assured that your questions and comments will be seen at the moment; this would be impossible if the videos were simply pre-recorded.
To start playing live casino games, you simply need to go to your preferred site and log into your account. The best online casinos offer a wide variety of live-dealer games, including traditional titles that have been popular for centuries. When you choose your game, you'll be connected to the dealer operating at a studio or an actual casino, ready to play alongside fellow players. If you're unsure how to play a specific live casino game, take the time to educate yourself before you join one.
As mentioned earlier, mobile casinos have advanced significantly in recent years, and playing on your smartphone or tablet is often just as exciting as on your desktop computer. Leading casinos maintain high-quality mobile sites optimized for smaller screens, though not all games may be available. Mobile apps may be offered too, giving you an equally-rounded experience without your needing to access the site through your browser, although these are not very common anymore.
Buy-Ins and Maximum Bets
Live Casinos don't require the same financial commitment as going out to a land-based one. To further cater to players who just want to play some games without sinking 100s, Live Dealer Casinos offer much lower buy-ins. You can play games where bets are only a couple of Euros. You won't win big, but you won't lose much either. These games are great for players that are still learning, and they don't want to bet a lot on experience they don't have.
On the flip side, online casinos also offer live games that have no maximums. If you are high roller with big stacks, you are taken care off. Between the penny tables and the no-limit games, there are all kinds of betting brackets that you can slide into. Choose a table that agrees with your bankroll, and you will get more enjoyment out of your live casino experience.
To check the minimum and maximum bets in any game, there is normally a button that you can hover over down the bottom of the screen, and/or it will be stated in the lobby or before you join the game.
How are Online and Offline Casino Games Different?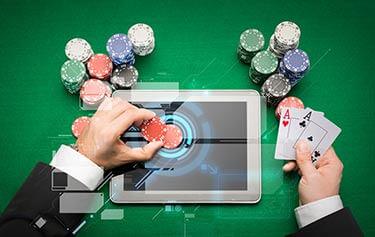 As realistic as live casino games are, they still aren't identical to visiting a casino in person. Like online slot machines and virtual sports, a simulation may not be able to compete with the real thing for some people – but live casino games do an outstanding job of putting you in a believable replication of a classic gaming environment. There are various differences and similarities between live online games and the real thing.
First and foremost, the full atmosphere of a bustling casino is missing when playing online. Certain elements such as the cheer (and cries!) of fellow players, the aroma of the upholstery, snacks, drinks, and dealer's perfume, and the spectators surrounding the table – these familiar elements cannot be faithfully captured online.
Of course, this isn't a problem for many players. Online gaming has been popular for around 20 years now, and with its continued growth, many fans may simply never have even considered visiting a brick-and-mortar casino, let alone step foot in one. For these people, live casino games will be a much more interactive, social activity than they may be used to, and perhaps even encourage them to try their hand at a few games in a land-based venue.
New live casino games are ideal for seasoned players who may have grown tired of the traditional casino experience and would prefer to play from the comfort of their living room. The presence of a professional dealer and playing alongside others means they can gradually get used to the online environment, before experimenting with more diverse options.
The live casino experience gives a more convenient alternative to visiting a brick-and-mortar establishment. There's no need to get dressed up, leave the house, arrange transport, wait for other players to leave the table … you can dive into a game with a live dealer at your leisure. This is incredibly helpful for people with mobility or transport issues, allowing them to have fun and potentially win prizes without hassle.
Live dealer games bridge the dual worlds of land-based casinos and online casinos beautifully, combining the best of both. On one hand, you have an attractive host to interact with, and in the other, you get to enjoy total privacy in the comfort of your own home. The gameplay is faster in live casino games too. In real-world casinos, you may have to wait for other players to decide how they want to play their next hand, or for the dealer themselves to deal their cards to numerous other people. Playing online is far smoother and streamlined.
Popular Live Dealer Games
As mentioned before, the most common games on live casinos are table games like Poker, Blackjack, Baccarat, Craps, Pai Gow, Roulette, Dice,  Lottery and Live Wheel games. Bingo is sometimes played live, but it is not that common to find a game with a live video stream. Live lotteries are played at scheduled times throughout the day,  you can choose your numbers before or live bet on the next number chosen.
Poker and Blackjack are by far the most common, both in online and offline casinos and they probably translate the best to the live casino format. It is very easy to record and stream a live game of poker, and the player is given the option to zoom in, so you can see exactly what is happening.
The main difference, in the games offered, between  Live casinos and land-based ones, is the amount of variations that you can play. It is not uncommon to see up to ten variations of poker, how often do you see that in a land-based casino? The games are also much faster than playing alongside players in a land-based casino. Everyone can enter what they want to do into their own panel at the same time, and there are fewer distractions. Better yet, you never have to wait for a table. If they are all full, you can just go to another lobby or casino, but it rarely ever happens.

Live Casino Developers
It is just a few well know casino game developers, like NetEnt and Evolution Gaming, that make live casino software, some of them made inside at the most legendary land-based casinos. But in recent years we have seen more developers entering the market, some of them you have never heard of and specialise only in making dealer games.

Live Casino Studios – Behind the Scenes
You've already read our guide on how to play live casino games, you'll no doubt be familiar with the basic process of getting involved. Beyond this, though, how are live casino games made and how do they operate? How do dealers interact with players? How are key details kept track of during each game (such as cards dealt)?
The studios from which these live casinos operate usually feature a minimum of three rooms, though in the case of Evolution Gaming or Microgaming, more space will be available. One or more rooms will be set-up as the live studios themselves, in which the dealer, table, and paraphernalia are housed, whereas another will be dedicated to the software operators (and the director, who controls which camera feeds are displayed on-screen at any one time).
An analyst room is another key element of a live casino studio, in which they view and process activity within the games. Any fraudulent or unfair behaviour will be detected immediately, and any players taking part in such unethical activity will face the consequences.
In some cases, an operator may offer live casino games from an authentic land-based casino. Evolution Gaming, for example, specialises in this, with locations in Grand Casino Murcia and Belgium, with multiple sites paying to broadcast their live feeds to their customers. Their Ruleta En Vivo is a prime example of these services, enabling Spanish casinos to stream real-time Roulette throughout the country, incorporating various blue-screen options to customise the studio's aesthetic. 

Where are Live Casino Studios Based?
Some of today's biggest providers of online casino software offer live games, including Microgaming, Evolution Gaming and Playtech, but operate from various locations across the planet.
Evolution Gaming operates out of one of the biggest live dealer studios in Riga, Latvia (as does Playtech)
Playtech Asia (an offshoot of the core Playtech brand) streams games from Manilla, in the Philippines.
Microgaming broadcasts out of a studio in Toronto, Canada, Vuetec from Dublin, Ireland
NetPlay TV from London, England.
Visionary iGaming streams from studios in San Jose, Costa Rica.
Just a little tip. Find out the location of the casino studio, because it is a good indication of its reliability. You need to consider things like the reliability of their internet and power in the countries that they are found in. For example, a casino studio in Manila is more likely to go offline than one in Budapest. Then make sure you join a table that speaks your language. You don't have to, but it is just good manners. Most of the big online casinos will offer tables in several languages. There are also some minor differences between the studios.

What Cameras are Used to Record Live Dealer Games?
Live casinos depend on various technological tools to present their games to players. Multiple cameras may be used in specific games – live Roulette, for example, usually incorporates three cameras to capture the wheel, the table, and the dealer throughout. This is an incredibly fast-paced game, and players will expect to have a clear sight of the action as it unfolds. Multiple cameras allow for picture-in-picture displays, so players can see the dealer, the table, or other elements of the studio together on-screen at the same time.
In other games, such as Blackjack or Baccarat, two cameras may be used instead (one for a medium shot of the dealer and table, another for a close up of the cards on the table). Setting the cameras up to capture the dealer's hand movements, show the cards with the utmost clarity, and keep presenters face-on to the viewer takes time, but getting the coverage right is key to sustain the quality of the customer's experience.
Optical Camera Recognition plays a major role, recording the tiniest details (shuffling cards, wheel spinning, dealing hands etc.) in the live studio to be streamed to players without fail. This is the same kind of image-capturing technology found at car parks, to record number plates with enough accuracy for future reference. Every live casino will utilise this for the most effective experience, and minimise the risk of any potential oversights.

The Technological Resources of Live Casinos
Showing every action taking place in the studio as the game unfolds is critical to maintaining players' trust. Any blind spots or missed steps may lead them to question the operator's integrity. Players grow attached to their favourite land-based casinos, and a live online version is no different; the best live casino operators understand this and invest in only the best services.
Some brands may even create their own tools to enhance the quality of their video streaming. NetEnt, one of the biggest software developers in the online casino sector, uses its unique Chroma Key technology to maximise players' experience: this technology integrates live HD picture into the video streaming, enabling individual operators to incorporate their own branding into the image.
Not only does this reinforce the business name and logo from the start of the game to its end, it helps to differentiate that site from others broadcasting the same video stream.
Another technological feature that's vital in live casino games is the game control unit (GCU) – this encodes the studio's action for it to be broadcast live, transferring every moment into a high-quality video. Every table has its own GCU, and it's around the size of a shoebox; without these digitising a game's information as it unfolds, live casinos would be unable to operate. In card-based games, such as blackjack or poker, cards contain microchips or barcodes which are scanned as they are dealt; this enables the GCU to keep track of which cards are at play and which players they belong to. This is vital to help the system avoid mistakes or oversights in even the busiest game with numerous players.
Last but not least, a monitor is indispensable for games' dealers, as it displays which players are online and lets them keep track of which bets have been placed; the dealer and players can engage in live chats throughout games too, creating a social atmosphere central to the true casino experience. During the course of a game, a dealer and their players can build a friendly rapport, making the experience as fun and entertaining as it can be.

How Do Live Dealers Operate?
Dealers at live online casinos behave just as they do at brick-and-mortar venues. They will greet players, wear a smile, and cultivate a fun, lively atmosphere throughout the game, all whilst performing their duties. Said responsibilities depend on the game currently underway: Roulette, of course, is played differently to the likes of Baccarat or Poker, and dealers receive thorough training in each.
Dealers will wait for players to make their moves and decide how to proceed and can engage with them through live chat software. At some casinos, players may be able to tip their dealer to compliment their work and show appreciation.
What does it take to be a dealer?
Essentially the same as it does in land-based venues. Dealers will need strong numerical skills and be able to interact with players in a friendly manner, regardless of the game being played and the number of people taking part. They're expected to dress smartly, maintain a well-groomed appearance, and keep a lighthearted attitude despite long shifts at the table.
Furthermore, in the event of a player becoming disgruntled or questions the fairness of a specific outcome or decision, dealers are expected to stay cool; even if customers start to become abusive or possibly aggressive, dealers must handle the situation diplomatically. In most cases, the website will not tolerate such behaviour from members and eject or ban them from the game.
In rare cases, technical malfunctions can lead to frustrated players despite being out of the dealer's control. Given that online live casino games are often available 24 hours a day, dealers will have to be prepared to work set shifts, which may vary from time to time. This could mean hosting games through the night, which obviously has personal implications for their lifestyle, though different brands will manage dealers' working patterns in their own way.
Dealers' pay will vary from one country to another – those working in London or Spain, for example, may well enjoy higher rates than dealers based at studios in the Philippines. This will, of course, vary from one brand and studio to another. The live casino is here to stay. As we've seen, immense effort and creative thinking go into streaming these games through online casinos around the world, incorporating the latest technology for maximum effect.

The Beginnings of Live Casino Games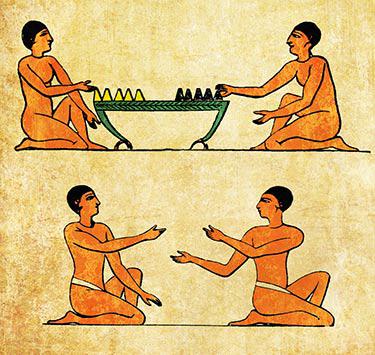 Gambling has always been a social activity. Dating back to the Ancient Greeks and beyond, wagers were placed in public environments and brought people together as they bet on different outcomes. This is true of countless events across the gambling spectrum.
Horse racing, football, basketball, darts, boxing, motor racing, and countless others all attract large crowds, with thousands of people gathering at any one time to support one side or another. Even if they have no money riding on a particular result, the thrill of the competition and the craving to know who will win is enough to grab them.
This is equally true of casino games. At brick-and-mortar casinos, hundreds of customers gamble side by side in a vibrant atmosphere, crowding around tables and machines by the dozen. Las Vegas is one of the most popular destinations on the planet, drawing millions of people each year – a large portion of whom are drawn by the world-famous casinos.
Online casinos began to appear in the mid-1990s, with the increasing accessibility and affordability of the internet. However, players were left to either play against the computer or faceless fellow players, making it a fairly solitary activity at times. It wasn't until the past few years that live dealers have become available – and it's a trend that's growing. Fast.
Live casino games utilize the latest video-streaming technology to connect customers with dealers in real-time. Sophisticated software provides crisp, clear visuals and sound to make you feel as if you're really sitting at a table with the host themselves. This can take some getting used to, especially for players more familiar with online slots than this more traditional set-up, but it offers a realistic, immersive alternative to playing against an AI.
As online video has continued to evolve and improve, live casino games have grown better too. More and more titles are available across multiple websites, and they can be played on mobile devices as well; with just a smartphone or tablet, you can connect to live games 24/7, wherever you are.