New Live Poker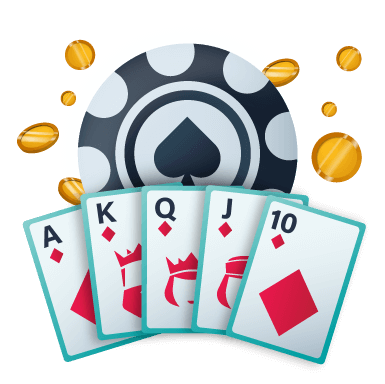 The poker game has been made hip and trendy thanks to numerous movies. Its cool factor does not go unwarranted. Everyone seems to want to play it now, and since it comes in many variants, you have many options, each coming with its own set of rules.
The game can be absurdly overwhelming to new players to the game. It's not only due to massive Texas Hold'em poker tournaments, which can be intimidating. Even playing the game for the first time can indeed be petrifying at any live casino.
However, once you know the basics and the myriad of live poker bonuses available out there, you will be able to quelch your worries and become a live poker superstar.
Keep on reading our comprehensive guide to live poker.
Last update:
December 27, 2022
How does Live Poker Work?
The first thing you need to do when playing live poker is to choose a table. If you spot any games open or with available seats, you can take them. There are all sorts of live poker games, so you must sign up for a game you are familiar with.
These games come with limits and various betting amounts for each game. The game might also be limit or no limit. If it is your first time playing, it's recommended you stick to the lowest limit tables.
Secondly, you must buy your chips before sitting down and playing. You can check the minimum buy-in for the poker table you are able to sit down to play at.
Once you are in the game, you must carefully follow the poker etiquette rules. Be polite to other players as well as the dealer.
How to play Live Poker?
Live casino poker is played similarly to regular online poker, except in a live setting. If you are familiar with the game, you should have no trouble getting started. If you don't, we'll show you the ropes.
Let's take the game of Texas Hold'em poker, for example. The main objective of this game is to create the best possible five-card hand out of seven available cards. You must also place a wager on it against what the other players are holding.
The five cards should be made up of two pocket cards that are dealt out to each player, plus an additional five cards available on the table for everyone to use. These are called community cards.
These cards are only revealed in stages, better known as the flop (for the first three cards shown(, the turn (the fourth card) and the river (the fifth card).
Players can call, raise, or fold throughout the game depending on how strong their hand is compared to other players at the table. In the end, the player with the strongest hand and who hasn't folded wins the prize pot.
Live Poker is played out a little slower than online poker. Since it is similar to playing cards in a real-life casino setting, there is more strategy at play during each hand.
In Live Poker, players take on primarily the dealer. You don't have to bother too much with the other players, as the only other person you will be able to see is the dealer.
Basic Poker Hands
In addition to knowing how the game is played out, learning the ranking of poker hands and their probability will give you an edge over other players. Here are the Texas Hold'em hands ranked from best to worst:
Royal Flush: A Royal Flush is made out of a 10, Jack, Queen, King and Ace. These must all be of the same suit.
Straight Flush: A Straight Flush comprises five cards in a row of the same suit.
Four of a Kind: A Four of a Kind is the same card (denomination) in each of the four suits.
Full House: A Full House features three of a kind in the same hand. For example, three Ks of various suits.
Flush: A Flush is made up of five cards of the same suit, but not in any particular numerical order.
Straight: A Straight is a hand made up of five cards in numerical order, but not of the same suit.
Three of a Kind: Three of a Kind is a hand made up of three cards of the same value (for example, three Kings of various suits) and two non-paired cards.
Two Pairs: Two different sets of the same card in one hand. For example, two aces and two fours.
One Pair: One pair of the same card.
High Card: A High Card refers to a hand with no matching cards whatsoever.
Live Poker Terms
Once you know the various hands and rules, it's time to familiarise yourself with the poker lingo. If you have ever wondered about the meaning of some poker term, then you can find it in our list below:
A-Game: A term used to describe that you are making the right decisions.
Ace-High: A poker hand where the highest card is an Ace without making a pair or stronger combination.
Action Card: A specific card, which comes on the turn of the river. It is perceived to increase the strength of the hands of two or more players who are still in the game.
Air: A weak holding, without any value on its own.
All-in: When a player wagers all his remaining chips and will not apply any further actions.
Ante: A small bet that all players must make before the hand starts.
Bet Blind: Making a bet without looking at the cards first.
Big Blind: A player sitting in the big blind position must place the number of chips.
Bluff: Wagering with a weak hand to make other players fold.
Buy-in: The minimum amount a player must pay to play in a specific game.
Community cards:  A term that describes the cards dealt face up in the middle of the table.
Hand Rankings: A list of hand values from the weakest to the strongest.
Hole Cards: Cards dealt face down and can only be used by you.
No Limit: A type of poker game, where a player must wager as much as they want depending on the given situation.
Pot: The number of chips placed in the middle of the table.
Position: The player's position on the table in relation to the dealer.
Types of Live Poker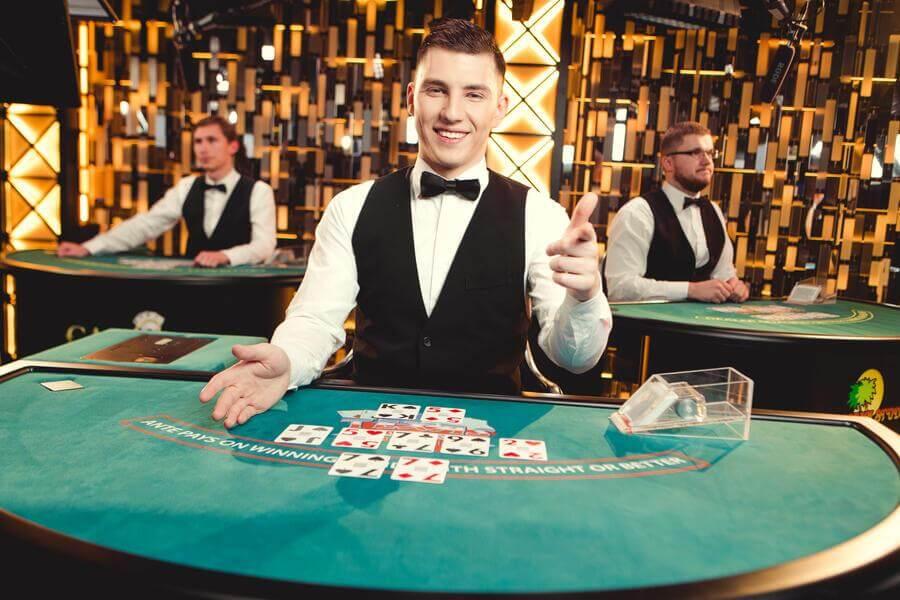 You can find a variety of live poker formats for you to enjoy at some of the best live casinos on the market. Here are some of the most popular types available:
Caribbean Stud Poker
In this game, you are faced with fast-paced poker action, with an optional progressive jackpot side bet. The player is dealt five cards to take on the dealer with the. The dealer also takes its own set of cards but must have an Ace and a King or better to qualify.
Before the dealer's hand is revealed, the players must decide whether to raise their bet or fold.
Three Card poker
Similarly, players take on the dealers in this game instead of the players. The dealer must have a Queen High to qualify. On the other hand, players, who hold anything better, including a straight, can enjoy an ante bet, regardless of the dealer's hand.
Ultimate Texas Hold'em
You can find online and live versions of Texas Hold'em. Potentially the most popular type of poker game, you are invited to go head to head against the dealer. Your aim is to create the best possible five-card poker hand by using your two poker cards and three community cards available on the table.
Side Bet City
In this game, you are not playing against the dealer. Instead, you are playing against a paytable and must bet on all to lose or any combination based on the traditional poker hands.
Why play online poker at a live casino?
While it's always fun playing online poker, nothing quite beats the live dealer experience. Hitting a live casino is a very popular choice amongst poker players who are looking for a different kind of action:
Live interaction: Contrary to popular belief, poker players enjoy interacting with fellow players and the dealer at the table.
Fair experience: There is an extra element of trust, and since the game is live-streamed, you can follow all the processes akin to the brick and mortar experience. The cards are shuffled before your eyes. While online poker uses RNGs, live casinos use professional shufflers.
Better skills: You can hone your skills by playing poker and transferring them to other games. An element of strategy is required to play live poker, but it is also applicable to games such as live blackjack.
Bigger stakes: You have the option to opt for minimum and maximum stakes. There is a risk element attached to playing poker, and some players thrive on adrenaline. Many players love nothing more than placing big bets.
Playing on the go: You can fire up your favourite poker game and play whenever and wherever you are straight from your smartphone or tablet.
How to play online poker with a live dealer?
If you are itching to get started, we have prepared a detailed version of how to get started at playing online poker with a live dealer. Follow our step by step process below:
Sign up to a live casino site of your choice
Make a deposit and select a poker table/game
Place your bets
Receive your two hold cards and see the community cards placed on the table
Check out the turn (fourth face-up cards)
Finalise your hands
The winner is revealed
Can you play live poker via mobile?
Yes. Without a doubt, you can enjoy your favourite live poker game on the go. Because there are no time constraints when it comes to live casino games, players can access these games at any time of the day, directly from their smartphone or tablet.
It is important that you are connected to a steady internet connection, as live casino games use a considerable amount of data.
Some live casinos have downloadable mobile casino apps, especially for mobile, which allow you to access the games at the click of a button.
Whether downloading a mobile casino app or playing directly from your browser, both can offer a fruitful gaming experience.
What are the differences between live poker and online poker?
Both online and live poker games have their own differences and strategies. The game started in the live arena, but since then, poker has flourished and can be found in both versions.
Both come with their own set of pros and cons, and the best option is usually down to personal preference.
Live Poker
Slower action
Bigger progressive jackpot prizes
Loose-passive players
More limps and post-flop play
Online poker
Fast-paced action
Stronger competition
Aggressive playing styles
Huge events
More variants available
Higher variance
Best game developers for live poker
There are some key stakeholders when it comes to game developers of live poker games. Gambling just would not be possible without them these days. Here are three of the most prominent game developers on the market.
Microgaming
If you have ever gambled online, you are probably familiar with Microgaming. It has produced more than 1,000 online and mobile casino games since its inception in 1994.
However, very few players know that it also creates a variety of live casino games annually.
Evolution Gaming
Evolution Gaming has the most extensive choice of live poker games amongst all live game developers. It is one of those rare game developers that keeps producing one hit game after another.
Similarly, it has created many live poker titles, including Ultimate Texas Hold'em, Texas Hold'em Bonus Poker, Casino Hold'em, Live Three Card Poker, Side Bet City and Caribbean Stud Poker.
Vivo Gaming
Vivo Gaming has been around for more than 15 years. You will be forgiven for thinking that this is a new software game developer.
When it comes to live casino solutions, it offers everything that a player would need. It offers Live Poker with a European style of delivery. It is played with one deck of cards and is multi-player based.
The table can take an unlimited number of people for one game. The game rounds are quick, and the deck is swapped between each round.
FAQs
1. Is live poker fixed or rigged?
No. As long as you are signing up for a licensed and regulated online gambling operator as recommended at NewCasinos, then you are in safe hands. It is complicated to rig a live poker game since the cards are shuffled before your eyes.
2. Can you win real money playing live poker?
Yes. As long as you know the game's rules, the hand values and have a good strategy in place, you can definitely win real money by playing live poker.
3. Can you beat the dealer when playing live poker?
Yes. With a tinge of good luck and good skills, you will be able to beat the dealer when playing live poker against the dealer.
4. Can I play for free?
You can play a free demo game in many casinos before committing real money. However, only RGN tables offer this possibility.
Once you are comfortable and confident with your skills, you can play live poker for real money at a live table.