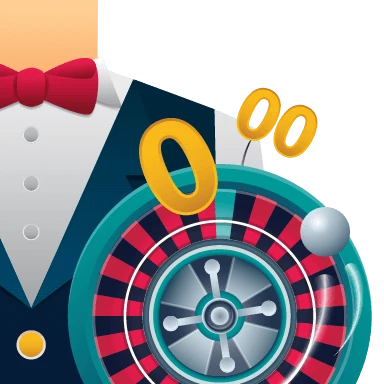 At face value, live roulette games may seem like a daunting endeavour at first, but in reality, it is one of the most accessible live casino games to play. It is straightforward and offers some of the easiest-to-understand bets and odds.
You should know, though, that the game is available in different variations. The variations usually pertain to the live roulette wheels. For example, the European Roulette game comes with 37 pockets, while the American Roulette wheel comes with 38 pockets, which is the extra 00.
The house edge between the two differs significantly. While the house edge for European roulette is 2.7%, the American roulette is a steep 5.26%.
Keep on reading to learn more about the basics of live roulette tables.
How does Live Roulette Work?
The live roulette game is probably one of the main reasons why a software-based version of this game is not quite as thrilling.
The game is presented with a roulette wheel, and your main objective in this game is to correctly predict where the ball spinning within the wheel will come to a stop.
In order to do so, you must place a bet on the roulette table. Once all bets have been accepted, the dealer will spin the wheel in one direction and the ball in the opposite direction. Wherever it comes to a stop, a winner will be announced.
What are the game rules for playing live roulette?
Knowing the rules of the game beforehand will pave the way for the best gaming experience. Before picking a table, you should always check the limits and decide on your bankroll and bet sizes. Have win and loss limits in place, so you can walk away comfortably once you have hit these limits.
Once you know how much you can afford to wager, you can set the bets using the various tools available on the screen.
If there is already a game in motion, you will have to sit the game out until the dealer opens up the next betting round.
Live Roulette bets and payouts
Placing wagers in the live roulette game is straightforward, but you need to make your decisions fast because you are playing with real players.
Since this game has different variations, you might want to make sure that you are familiar with the rules and possible bets. You only have a few seconds to place your bets before the dealer closes off the round.
You can opt to bet on any numbers on the inside or pick a spot on the outside. Outside bets include black or red numbers, low or high and odds or events.
When choosing inside bets, you have the option to combine a variety of bets, such as split, straight-up and corner bets, amongst others. You also have the option to place all your money on one number, for example.
Bear in mind that placing inside bets are far riskier than outside bets. The odds for inside bets are not in your favour.
Some roulette variants also offer a few side bets, such as a red snake bet and basket bet.
Inside Bets
Straight-up bets:

A bet on a single number only. Pays 35:1.

Split bets

: A bet on more than one number, but not more than two. Pays 17:2.

Street bets:

A bet on three numbers within the inside layout. Pays 11:1.

Corner bets:

A wager on four numbers. Pays 8:1.

Line bets:

A wager that covers six numbers. Pays 5:1.

Top Line bets:

A wager on a combination of 5 numbers. Pays 6:1.

Snake bets:

A wager made up of 12 straight-up bets across the inside board. It pays an average of 2:1.

Basket bets:

Available in the American roulette version, this wager covers three numbers, namely 1, 00 and 2. Pays 11:1. In the European version, it covers 0, 1, 2 and 3. Pays 8:1.
Outside Bets
Red/Black bets:

A wager on a red/black colour on the outside of the roulette table. Pays 1:1.

Even/Odd bets:

A wager that the ball will land on an even or odd number. Pays 1:1.

Low/High bets:

A stake on the ball landing on a number between 1 and 18 or 19 and 36. Pays 1:1.

Column bets

: A bet on any of the three available columns (1-34, 2-35 and 3-36). Pays 2:1.

Dozen Bets:

A wager on one of the three columns available inside the roulette's layout (1-12, 13-24 and 25-36). Pays: 2:1.
Type of Live Roulette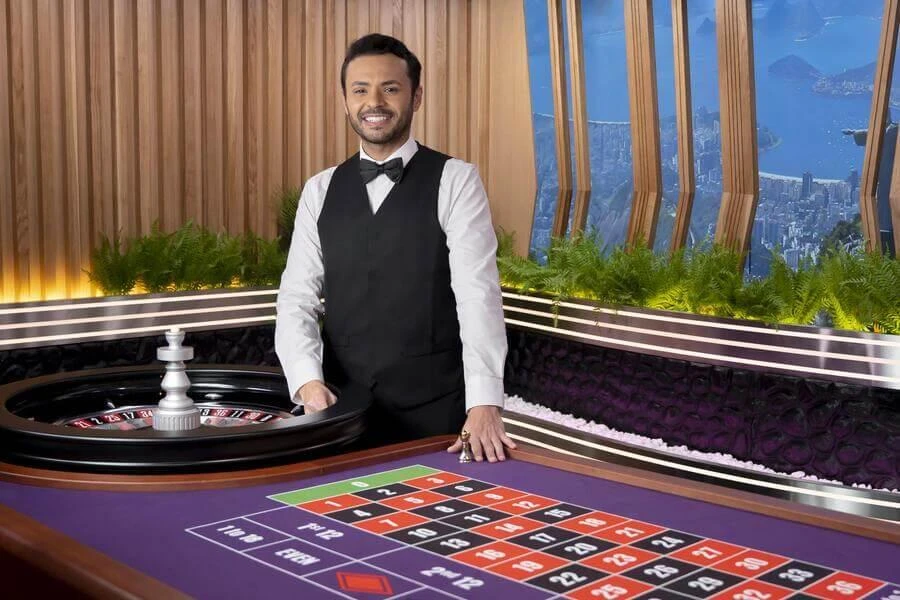 Once you join a live casino, you will immediately notice different variations of live dealer roulette.
Their betting ranges, backgrounds, RTPs as well as number of pockets vary vastly between them. One thing is for sure – the iconic roulette wheel is always there. Hare are some of the most popular live roulette variations available:
Live European Roulette
The European Roulette wheel comes with 37 pockets, including 36 numbers and a single 0 (zero).
Live American Roulette
The American Roulette wheel comes with an extra double 00, bringing the total to 38 pockets on the wheel. This extra pocket adds many more variations when it comes to placing bets, which can lead to a higher house edge and lower payout percentage.
Live French Roulette
The key difference between European Roulette and Live French Roulette is the pivotal La Partage rule. This rule states that you only lose half your wager if you place an even-odds bet and the ball stops on zero.
Live Lightning Roulette
One of the latest versions of live roulette, this game was made by the giant game provider Evolution Gaming. It has been designed in the form of a live game show, so it has become widely popular amongst many players.
In addition to the regular bets, you also have the chance to increase your wins with the aid of lucky number multipliers.
Once the bets have been closed, a lucky number and payout will be randomly generated. You have the chance to scoop up wins of up to 500x your wager, thanks to the multiplier.
Why play online roulette at a live casino?
There are many reasons why you should consider Roulette Live. The software version of this game lacks shine and enthusiasm, which some players will grow to crave. The game feels less authentic without that human touch.
On the other hand, live roulette games are fronted by real-life dealers, and the game is as close as you can get to a brick and mortar casino experience. Most importantly, these live games are available around the clock, so you don't have to adhere to any casino's closing times.
There are also table limits and bet sizes available. Both low and high rollers are welcome to play, regardless of the size of their bankroll.
How to play online roulette with a live dealer?
Playing live roulette is much more fun than playing a software version of this game. You can meet and make new friends in the chatroom, chat with the dealer and learn more about the game.
Here's how to get started in no time:
Choose a live casino

: First things first, make sure that the casino you are signing up to have live roulette and the variant you wish to play.

Sign up for an account:

Register for a casino account and claim the welcome bonus. If your casino of choice offers live dealer bonuses, take advantage.

Head to the live casino:

Pick a live roulette variant from the list available and look up the table limits. Make sure you settle for a game and wagers that suit your bankroll.

Place your wagers:

Place your bets, inside or outside bets.

Spin

: The dealer will spin the wheel. Feel free to chat with players and the dealer as the game s being played out.
Can you play Live Roulette via mobile?
Yes, Live Roulette can be played on mobile or tablet devices with no hassle at all. However, unlike online slot games or software-based games, live dealer games use a lot of bandwidth so if you want to enjoy the best possible experience, make sure your internet connection is fast and steady when joining a live table.
You can play games on a browser-based live casino or else download a mobile casino app, in some cases. You can sign up for an account, place bets and play games, as well as make deposits and withdrawals from your mobile phone.
You can play anytime and anywhere, including on your commute to work or your lunch break.
What are the differences between live roulette and online roulette?
If you are thinking of switching between online roulette and live roulette, let us help you make your mind up. Both come with their own set of advantages and disadvantages. One of the main differences between the two is that you are playing against a real-life dealer in a live setting:
Live Roulette
Play against the dealer and interact with other players

You only have a few seconds to place your bets

Much slower pace than online roulette, which means longer gameplay

Wider choice of roulette tables and limits
Online Roulette
Play against software rather than a human

You can take your time to place your wagers

You can play the game variants in demo mode beforehand

You can play for fun without putting your own money on the line

Wide choice of video roulette tables available
Best game developers for live roulette
If you are looking to get started, it will help to familiarise yourself with the game developers available for live roulette, so you can seek them when you are shopping around for the best live casinos.
Evolution Gaming
Evolution Gaming keeps on topping our lists. It is known for its engaging and highly immersive live casino experience. It offers more than just classic live gaming and has created a series of next-generation live game shows in recent years.
You can find all prominent titles, including Live European Roulette, French Roulette, American Roulette, Immersive Roulette and Lightning Roulette.
Pragmatic Play Live
Pragmatic Play has in recent years taken the plunge and expanded its horizons by offering live dealer games. You can enjoy popular roulette variants such as Mega Roulette, Roulette Macao and Speed Roulette.
Playtech
The leading pioneer of live dealer entertainment, Playtech is well-known for its authentic live dealer game setting. It has also ensured that the games work seamlessly across a wide range of mobile devices and tablets and has honed its games to perfection.
In addition to the classic Roulette games, players can enjoy Speed Roulette and Single Zero Roulette.
FAQs
1. Is Live Roulette fixed or rigged?
No. As long as you sign up for a licensed and regulated online casino, the games cannot be rigged in any way. Furthermore, there is very little room for foul play since the game is played out before your eyes by a real person.
2. Can you win real money playing live roulette?
Yes. As long as you play smartly and manage your bankroll well, you have the chance to win real money while playing live roulette. It is essential that you sign up to a licensed casino to ensure you can withdraw your winnings.
3. Can you beat the dealer when playing live roulette?
Technically you can, but since you are trying to predict where the ball will land, the game requires a strong element of luck. Unlike games such as Live Blackjack, there is nothing that a player can do to boost the chances of winning.