New Live Blackjack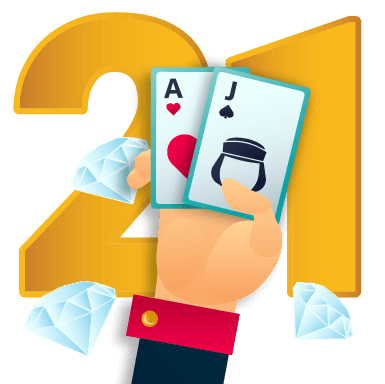 Are you intrigued by one of the most popular live casino games in the world? Then you have come to the right place as we will teach you all there is to know about the game of live blackjack.
Live Blackjack is as close as you can get to the brick-and-mortar casino experience without having to get dressed up and head out for the night. If anything, the convenience factor is huge since the games are available at all hours of the day. You can play on your commute to work, during a boring lunch break or late at night.
If you are ready to play the most entertaining game in the world, check out our top list of the best live blackjack casinos.
Last update:
March 22, 2023
How does Live Blackjack Work?
Live Blackjack works similarly to RNG software-based Blackjack, except you are playing against a real-life dealer in a live setting.
The main aim of the game is the same. You need to build a hand whose total value comes as close as possible to 21 without going over. You also need to have a higher hand value than that of the dealer's in order to win.
Go over the total value of 21, and you'll bust. If the dealer gets closer to 21 than you, you'll lose. If you and the dealer have the same hand value, it's a push; a Push results in the funds being returned.
What are the Game Rules?
The game is straightforward to learn, and there are no complicated rules. There is a number of actions players can take when playing live blackjack, namely:
Hit

: Request another card from the dealer

Stand

: The player takes no more cards

Split

: The player can split two cards of the same value. The dealer draws an additional card for each hand. The player makes a second bet equal to the first when splitting cards.

Double

: The player boosts the initial bet by 100% in exchange for one additional card and standing right away.

Surrender

: This option is not widely available. However, the player has the option to surrender directly after the dealer has checked for blackjack. Half the player's bet is returned.
Types of Live Blackjack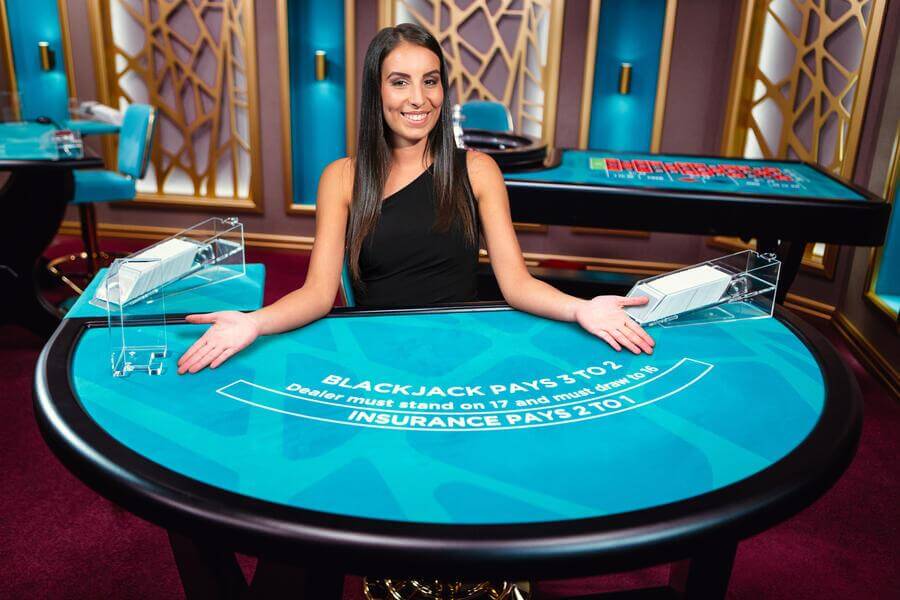 There are more than 20 Live Blackjack variations available out there. The main aim of the game is generally the same. The only differences apply to the rules of the game. Here are some of the most popular variations available:
Free Bet Blackjack:

Players are given free double downs on a 9, 10 or 11. They are also entitled to a free split on any pair that does not equal 20.

Spanish 21:

This game allows you to double down on any number of cards, even after splitting. Players can also surrender after doubling down.

Face Up Blackjack

. This game sees all cards dealt face-up, including the dealer's. This gives the player a considerable advantage. You can still double down on a 10 and 11, but not after splitting.

Pontoon

: This game does not allow the dealer to receive an upcard until after the player has made his move. Additionally, the player must hit until the hand is at least 15.

Live Blackjack Party:

As the name suggests, this game comes with a party atmosphere. The game features two hosts are who are sitting, chatting and having fun. Players can enjoy the

game of Blackjack and also have the option to bet from behind.
Why Play Online Blackjack in a Live Casino?
Playing against a real-life dealer has many benefits that trump those of their software-version counterparts. These include:
Real casino atmosphere:

You can chat with other players and the dealer via the chatroom as you play along. You may not be physically present, but the atmosphere is akin to that of a brick and mortar casino.

Different bet sizes: Whether you are a low or a high roller, there is a live blackjack table that accepts your bets, regardless of the amount.
High Stakes: If you love the thrills of placing big bets, there is a table with your name on it.
Mobile gaming: As long as you have a steady internet connection, you can play on the go straight from your smartphone or tablet.
24/7 availability: You don't have to adhere to the casino's closing times anymore. The live casino is available around the clock, 7 days a week.
How to Play Online Blackjack with a live dealer?
Playing against a live dealer may seem a bit daunting at first, but once you experience it yourself, you'll be surprised why you haven't tried it before.
First of all, the dealer, as well as other players, can't see you. You won't have to put your camera on. Pick a game variant of Live Blackjack that intrigues you, and take a virtual seat at the table.
You will be asked to place a bet at the first available opportunity. Once you place your bet, the game begins. You and the dealer are both dealt cards. You then must decide to hit, stand, double down or split. You have approximately 10 seconds to decide.
The cards are then revealed, and the winner/s are announced. Again, you are free to type in the chatbox and converse with other players or the dealer during this process.
Can you play Live Blackjack via Mobile?
Yes, you can play Live Blackjack on your mobile phone. However, we recommend that you are connected to a steady internet connection. Live gaming requires a lot of bandwidth. You are free to use your data as well.
If you are playing and the quality of the internet drops, the game will automatically readjust. You may not see the live dealer, but you can still play the game out until you have a stronger internet connection.
What are the differences between Live Blackjack and Online Blackjack?
There are no extraordinary differences between Live Blackjack and Online Blackjack. When you are playing online Blackjack, you are essentially playing against the software. It can be a very solitary experience.
On the other hand, if you want a live gaming experience with all the bells and trimmings, we recommend playing Live Blackjack. You have more betting options available as well when you play Live Blackjack.
For example, if there is no room at a table, you have the option to 'Bet Behind' on a player. This means that you can place a bet on the outcome of another player's game, and although not widely available, it is quite a popular option.
Online Blackjack is available to all, but Live Blackjack is the way to go if you want authentic gaming.
Live Blackjack
Live casino bonuses are available sometimes

You can chat with the players and the dealer

Limited time to place the bets and to make decisions

Games go at a slower pace

You don't have the option to play for free
Online Blackjack (RGN)
No waiting around. You can play at your own pace
You have ample time to make bets and decisions
You can play in free mode before playing with real money
Solitary game against the computer algorithm
Best Game Developers for Live Blackjack
Thanks to the many advancements in technology, many live dealer companies are offering live blackjack. These games are live-streamed from professional studios around the world.
Here are some of the leading game developers available:
Evolution Gaming
Evolution Gaming is possibly the biggest and most widely recognised live dealer game supplier in the industry. Kicking its journey in 2006, Evolution Gaming was one of the first to bring a live dealer version of the game of Blackjack. Since then, it has gone on to create numerous classic live games and TV game shows.
Amongst some of the most popular live blackjack variants is Free Bet Blackjack, Infinite Blackjack, Speed Blackjack, Power Blackjack and Classic Live Blackjack.
Playtech
Playtech is a leader in live casino software. It is one of the oldest live dealer game suppliers on the market and creates live dealer blackjack games for the masses.  It may not offer a wide selection of live blackjack variants, but it does enough.
Their classic live Blackjack games are played out with 8 decks of cards. You can play either from your desktop or straight from your mobile phone or tablet without having to download any unnecessary mobile apps.
Their Live Ultimate Blackjack game allows an unlimited number of players to play.
Pragmatic Play Live
Pragmatic Play Live has come a long way. It started off by creating online slot games before moving onto daily drop and win jackpot games and finally live dealer games.
They are renowned for creating a high-quality live blackjack atmosphere. You also have the option to bet behind and make possible side bets too.
Vivo Gaming
Another reputable provider of live dealer Blackjack games, this company also offers a complete cross-platform gaming experience. Like the others on this list, it offers a multitude of other live games.
Thanks to its unlimited Blackjack tables, everyone can immediately join and play.
FAQs
1. Is Live Blackjack Fixed or Rigged?
Although some players think that casino games are rigged, this could not be further from the truth.
While random number generators are available for all software-based games, which produce fair and impartial results, live Blackjack has professional shufflers coming on screen, where you can see them shuffling the cards. There is complete transparency to the process.
2. Can you Win Real Money Playing Live Blackjack?
If you play your cards right, you should be able to win real money by playing Live Blackjack. You should have a good bankroll management strategy in place and be familiar with the rules of the Live Blackjack variant you are playing.
It is important to practise beforehand. We recommend playing a few free rounds of online Blackjack, which can be played in demo mode.
3. Can you Beat the Dealer when Playing Live Blackjack?
Yes, as long as you know when to hit or stand, you can beat the dealer. Of course, an element of luck plays a vital role in generating wins.
However, if you can build up a good hand and take a few risks, you should be able to beat the dealer.