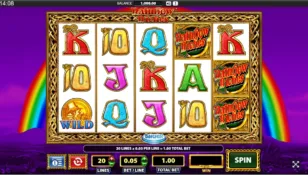 Rainbow Riches Slot Review

4.25/5
A classic Irish-themed slot by developer Barcrest, Rainbow Riches offers multiple bonus rounds giving players different ways to spin while enjoying an engaging gaming experience.
PlayGrand Casino Review

9 Min Read
Rainbow Riches, developed by the renowned software provider Barcrest, is a classic slot game that has been captivating players since its launch in 2008. This slot has a captivating theme that is inspired by the luck of the Irish and transports players to an enchanting world filled with Irish folklore, leprechauns, and the allure of hidden treasures.
The game features a straightforward gameplay experience with five reels, three rows, and 20 fixed paylines. With its whimsical visuals and iconic symbols, Rainbow Riches sets the stage for an engaging adventure. The game's graphics and animations, which might seem outdated compared to newer slots, exude a unique charm that adds to its appeal.
The mischievous leprechaun, a symbol of Irish legends, serves as your guide as you spin the reels in search of riches. Along the way, you'll encounter familiar symbols like horseshoes, wishing wells, pots of gold, the classic A, K, Q, J, 10 royals, along with the Rainbow Riches logo and the gold coin wild symbol, each holding the potential for generous rewards. Keep reading to learn more about this classic title at top online casinos.
Quick Facts About Rainbow Riches
| | |
| --- | --- |
| ⚡ RTP | 95% |
| 🎲 Volatility | Medium |
| 💰 Paylines | 20 |
| 🔼 Maximum Bet | €20 |
| 🔻 Minimum Bet | €0.01 |
| ⭐ Bonus Features | Wilds, Scatter Symbols, Multipliers, Pick Me Game |
Rainbow Riches Free Play
Playing the free/demo version of the Rainbow Riches slot can allow you to familiarise yourself with the game's mechanics and features without risking real money. Here are some tips that we would recommend you keep in mind when you play the Rainbow Riches slot demo version:
Use the Rainbow Riches free play mode as an opportunity to practice and refine your strategies. The more you play, the better you'll understand the game
Take the time to understand the game's rules, paytable, and bonus features
Use the Rainbow Riched demo play mode to experiment with different betting strategies
While the Rainbow Riches slot free play mode may limit your betting options, you should try out various bet sizes to see how they impact your gameplay and winnings
Where Can I Play Rainbow Riches for Real Money?
If you're eager to play Rainbow Riches for real money, you can find this exciting slot game at various online casinos. However, it's essential to ensure you select a reputable gambling platform that is licensed and regulated by a trusted authority. Below, we've compiled a list of recommendations for Rainbow Riches slot sites where you can enjoy this game with the chance to win real money.
Pros & Cons of Rainbow Riches Slot
As with any slot, Rainbow Riches comes with its own set of advantages and drawbacks. Following is a list of pros and cons of playing Rainbow Riches to help you decide if it's the right slot for you:
Pros
Rainbow Riches offers three exciting bonus rounds that can lead to significant wins
The game is optimised for mobile play, allowing you to enjoy it on iOS and Android devices
The game offers a range of betting options, which proves to be optimal for both casual casino players and high rollers
With medium volatility, Rainbow Riches strikes a perfect balance between frequent but smaller payouts and occasional larger payouts
Great for newbies as it offers a user-friendly interface
Cons
Rainbow Riches' RTP is slightly below the industry average
Unlike many other slot games, Rainbow Riches does not feature a free spins bonus round
While Rainbow Riches has its charm, some players might find the graphics and animations relatively basic and outdated compared to more modern slot games
Pros

Three exciting bonus rounds

Mobile optimised

Range of betting options

Medium volatility

User-friendly interface
Cons

Slightly below average RTP

No free spins bonus round

Basic graphics compared to modern slots
Rainbow Riches Slot Bonus Features
The Rainbow Riches casino slot offers an array of captivating bonus features that contribute to its popularity among slot enthusiasts.
The first bonus feature is the Road to Riches. Triggered by landing at least three Leprechaun scatter symbols, it takes players on a journey along a path of multipliers. By spinning a wheel and advancing, potentially reaching Rainbow Riches big wins.
You'll activate the Wishing Well bonus round when three or more Wishing Well scatter symbols appear on the reels. In this interactive 'pick me' feature, you select one of three wishing wells to unveil a hidden multiplier. The element of choice adds anticipation as you aim to reveal the most rewarding multiplier for your stake, which can be up to 500x.
Finally, the Pots of Gold bonus is initiated by landing three Pot of Gold scatter symbols on reels 2, 3, and 4. Gold, silver, and bronze pots spin above the reels during this exciting round. Your reward is determined by the pot that stops above the arrow.
Wilds
The wild symbol in the Rainbow Riches slot game is a shining gold coin adorned with the word "Wild" in bold letters. It functions as a substitute for most other symbols, with the exception of specific bonus symbols on the reels. When the wild appears on a payline alongside matching symbols, it acts as a stand-in for those symbols, effectively completing the winning combination.
The gold coin wild symbol also offers the highest payouts in Rainbow Riches. The more wild symbols you land on a payline, the more substantial your rewards. For instance, if you manage to land two wild symbols on a payline, you'll receive a payout of 0.1x your total stake. The rewards increase as you land more wild symbols on a payline, with the maximum payout being 25x your total stake for landing five wild symbols.
Scatter Symbol
In Rainbow Riches, you won't come across the conventional scatter symbol commonly found in many slot games. Instead, the game introduces a trio of scatter symbols: the Leprechaun, Wishing Well, and Pot of Gold symbols. These special symbols serve as the gateway to the game's exciting bonus features.
Landing three or more Leprechaun symbols anywhere on the reels triggers the Road to Riches round. The appearance of three or more Wishing Well symbols activates the Wishing Well bonus feature, while three Pot of Gold symbols landing on reels 2, 3, and 4 initiate the Pots of Gold bonus feature.
These scatter symbols are pivotal to the Rainbow Riches experience, each presenting an opportunity to unlock a specific and engaging bonus adventure. Their presence elevates the excitement of the game by offering unique gameplay mechanics and additional chances for substantial wins.
Free Spins / Respins
Rainbow Riches does not offer free spins or respins as part of its bonus features. Instead, the game focuses on its unique bonus rounds triggered by the symbols of the Leprechaun, Wishing Well, and Pot of Gold.
The absence of Rainbow Riches free spins doesn't diminish the game's appeal. Instead, it offers players alternative bonus rounds to enjoy exciting adventures and potentially boost their winnings, which more than compensates for the lack of additional spins and offers an entertaining slot experience.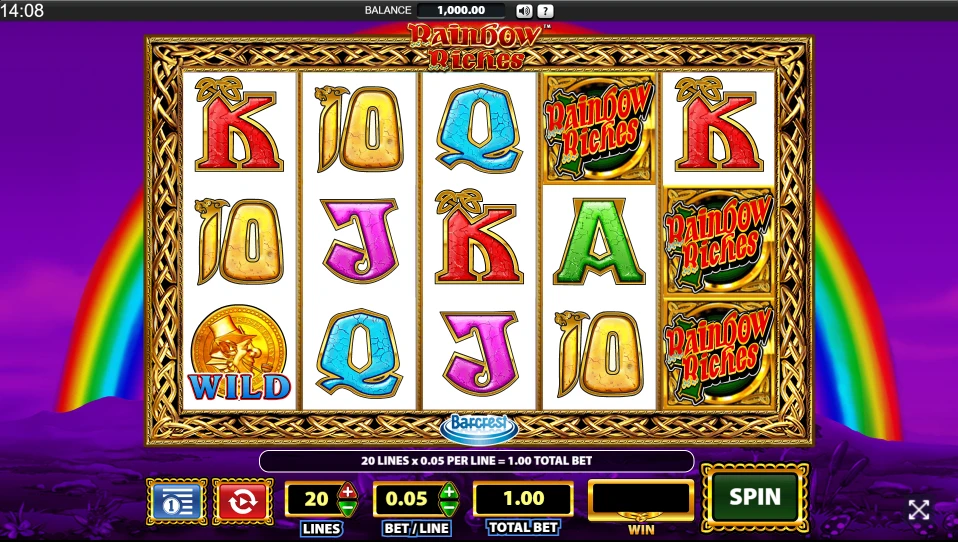 RTP & Volatility of Rainbow Riches Slot
The Rainbow Riches online slot, with its RTP of 95%, falls slightly below the industry average of around 96% for online slots. While this may seem like a minor difference, it means that, theoretically, the game returns 95% of the wagers to players over the long term, indicating a slightly higher house edge than we perhaps would like to see. This suggests that players might experience slightly fewer wins over extended gameplay sessions. However, it's important to note that the RTP is a statistical average and doesn't dictate individual outcomes. Players can still achieve significant wins, but the odds may be slightly less favourable than in games with higher RTPs.
Volatility describes the risk and reward profile of a slot game. Rainbow Riches falls into the medium volatility category, which means it strikes a balance between frequent small wins and less frequent but potentially larger payouts. This volatility level is often seen as suitable for a broad range of players, as it offers a mix of excitement and consistency.
Rainbow Riches Slot on Mobile
While executing our Rainbow Riches review, we came to know that it offers a fully functional mobile version that allows casino players to enjoy the game on their smartphones and tablets. This mobile adaptation is designed with user convenience, ensuring Rainbow Riches' magic can be carried in your pocket and enjoyed whenever desired. Whether you're commuting, waiting for an appointment, or simply prefer the mobility of gaming on your mobile device, the mobile adaptation ensures that the allure of Rainbow Riches is always at your fingertips, ready to deliver a dose of Irish-themed slot excitement.
The mobile version provides the same captivating experience as the desktop version while offering the flexibility to play on the go. When you access Rainbow Riches on your mobile device, whether an iOS-powered iPhone or iPad or an Android smartphone or tablet, you'll find that the game seamlessly adjusts to your screen size. This responsive design guarantees that the graphics and engaging features remain just as visually stunning as in the desktop version. Players can still immerse themselves in the enchanting Irish-themed world of Rainbow Riches, complete with bonus features and the potential for significant wins.

Pro Tips For When You Play Rainbow Riches Slot:
If you're aiming to enhance your Rainbow Riches gaming experience and boost your winning potential, you've come to the right place. In this section, we'll provide you with valuable advice and tips to help you make the most of your Rainbow Riches sessions. Whether you're new to the game or a seasoned player, these insights will assist you in making informed decisions while boosting your odds of landing those coveted wins:
Look for online casinos or websites that offer free play versions of Rainbow Riches. Ensure that the online gambling venue is reputable, trustworthy and secure
Determine how much money you're willing to spend on the game before you start playing
Stick to your budget and avoid chasing any losses
Take advantage of casino bonuses and promotions; read the terms and conditions carefully before claiming any promos and bonus offers
Avoid playing when feeling emotional or under the influence of alcohol or other substances. Emotions can cloud judgment and lead to impulsive decisions
Remember that gambling should primarily be for entertainment. While winning is exciting, viewing losses as part of the overall experience is essential
After your gaming sessions, take some time to evaluate your play. Assess what worked and what didn't, and adjust your strategies accordingly
Make sure to practise responsible gambling
Our Verdict on Rainbow Riches
Through this Rainbow Riches slot review, we've assessed that this masterpiece by Barcrest stands as a timeless gem in the world of online slots. With its enduring popularity since its 2008 release, it has proven itself as a fan-favourite, and for good reason. The game's Irish-themed charm, complete with leprechauns, rainbows, and pots of gold, adds a lighthearted and quirky dimension to the gameplay.
While some may find its graphics relatively basic compared to modern slots, Rainbow Riches maintains its allure through its thematic consistency, lighthearted atmosphere, and range of in-game bonus features. Whether you're spinning the reels on a desktop or enjoying the mobile version on your smartphone or tablet, Rainbow Riches provides a convenient and cheerful journey into the world of Irish folklore. It's a game that has captured the hearts of players for years, and its legacy as a classic slot remains firmly intact.
Rainbow Riches FAQs
Here are some frequently asked questions related to the Rainbow Riches slot game:
Rainbow Riches is a straightforward slot game. To play, you launch the game through a respected online casino, choose your bet, click on the spin/play button to spin the reels, and aim to land winning combos on the paylines.
Rainbow Riches offers three primary bonus features: "Road to Riches," "Wishing Well," and "Pots of Gold." These features are activated by landing specific scatter symbols and offer opportunities for multipliers and additional winnings.
Yes, the online casino Rainbow Riches is mobile-compatible. You can play it on smartphones and tablets, both on iOS and Android platforms, through web browsers or dedicated casino apps.
Rainbow Riches by Barcrest has an RTP of 95%, which is slightly below the industry average for slot machines. This means, on average, the game returns 95% of the wagers to players over the long term.
No, Barcrest Rainbow Riches does not have a free spins bonus round. Instead, it features the three bonus rounds mentioned earlier, which are activated by landing scatter symbols.