New Bancontact Casinos

Bancontact Mister Cash, widely known as Bancontact, is a payment method that was developed in 1979 by Belgian Banks. Bancontact debit card payment allows digital payments in stations, shops, service stations, road tolls, and online shops.
Their app processes online payment through QR code scanning and pin verification. The app supports payment to e-stores, manual stores, and the transfer of small amounts between friends.
Latest Bancontact Casinos 2023
Paying with the Bancontact app is safe and easy (it's easier than taking a picture, but you can compare casinos that accept Bancontact. In the meantime, have a look at a full list of the Latest Bancontact Casinos below:
Bancontact Short Facts
Currencies
Virtually all.
Security

Standard bank protocols and PIN.

Transaction time
Instant
Min. Transaction
Defined by the casino.
Deposit Fee
No.
Withdrawal Fee

€0,50 for ATM cashouts + 0,12%

.
Advantages of Bancontact
Fast and secure transfers
You can make your transactions within seconds, make hassle-free in-app or online purchases, settle invoices and bills, and even pay in a shop. It only takes three simple steps: scan, PIN code, and you are done.
Instant deposits
Deposit made using Bancontact app is carried out instantly. So you don't need to wait a lot longer to start gambling.
Anonymous transactions
If you enjoy privacy, then Bancontact is for you. All transactions are anonymous as the payment is encrypted.
Great acceptance in Belgium
Bancontact has become one of the best online banking systems for Belgian gamblers. It's accepted in most Belgian-based gambling and gaming websites.
Mobile App
In nearly all aspects, the mobile app is a hugely beneficial alternative to debit cards. However, the app doesn't replace the card for ordinary payments in shops (it is offered as an addition to it).
For example, you might be in a casino with friends and want to split the bill amongst yourselves – or you want to pay a casino dealer who doesn't have a Bancontact card terminal but who has access to a smart device. Whatever your needs are, Bancontact might suit your plans.
Disadvantages of Bancontact
Few languages supported
Unfortunately, Bancontact is only three languages: French, Dutch and English at the moment.
Only available in Belgium
Players outside the Belgium territory cannot pay at online casinos using Bancontact. Fortunately, there are many alternatives.
Fees
For ATM withdrawals, a fee of €0,50 + 0,12% will be charged for every transaction. There's also a charge of €0,75 to change your pin code.
How to get a Bancontact Account
To sign up for a Bancontact account, you must enter your App Store or Google Play to download the app. That done, simply complete the entire registration process and you are good to go! After that, if you choose to request a Bancontact card, you must contact your bank and request it to them.
Just a few easy steps to get a Bancontact account:
Go to the App Store or Google Play on your phone.
Download the Bancontact app.
Register for an account by entering the required information.
How to Deposit at a Bancontact Casino
To find out the presence of Bancontact app as a valid method of deposit, check out the casino's banking section. It will be located in the e-checking section together with other banking options such as Paypal and e-wallets. Next, move to the cashier segment and tap on 'deposits'.
Insert the amount you wish to deposit as well as the promo code if it's applicable. Although some casino doesn't have a limit to the amount you can deposit, ensure that you don't exceed the limit.
Next, select the Bancontact app as your payment option, and you will be directed to the Bancontact server, where you will be requested to log into your app's account. After you log in, the process will be quite easy.
Just scan the QR code, insert your PIN code and you are done. You will receive an instant message that confirms your transaction.
Just a few easy steps to deposit at a Bancontact Casino:
Log into your casino account.
Go to the Cashier page on the casino.
Choose the Bancontact app as your payment option.
Log into your account.
Scant the QR code.
Insert the PIN.
Wait for the confirmation of your transaction.
How to Make a Withdrawal with Bancontact
The process of cashing out your winnings with Bancontact is almost the same as depositing. Make sure the chosen casino accepts Bancontact as a payment method and log into your Bancontact account. That done, scan the QR code and insert the PIN that your transaction will be immediately confirmed via text message.
Safety and Security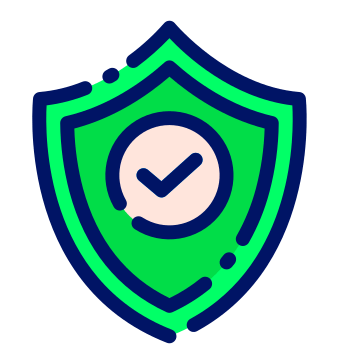 Bancontact follows bank standard protocols to protect your personal information. In addition to that, you will receive a PIN-code for every transaction you make using Bancontact, rendering almost impossible to intercept or interfere with the transactions.
Therefore, your account and sensitive data are safeguarded from any type of fraud and card theft.
Bancontact Requirements
You can use Bancontact if you reside in one fo the company's officially registered countries. All people who are clients to any of the following banks can receive or make payments with the Bancontact app: VDK Spaarbank, Record Bank, KBC Bank, ING Belgie, Crelan, CPH Banque, CBC Banque, bpost Banque/bpost bank, BNP Paribas Fortis (including Fintro and Hello Bank), Belfius, Bank J. Van Breda, AXA Bank, Argenta, and ABK Bank.
These banks make the app available for transactions between cardholders. Besides, app transactions are available at primary partner dealers and for online transactions.
Additional information about Bancontact
Originally, it was 2 separate and unrelated banking methods (Mister Cash and Bancontact) which were merged during the 80s to become a single banking system which is owned by Bancontact Mister Cash Company.
Forty-one years after its establishment, Bancontact Cash has become one of the common household brand names in Belgium.
In Belgium, Bancontact sits right at the top with other huge brands like Jeep, Kodak, and Bic. Simply put, Bancontact is the Belgium electronic payment market leader. As of the start of 2017, it was reported that there are now more Bancontact cards in Belgium than Belgians.
This means that the card enjoys the same level (if not higher) of popularity as the smartphone.
Bancontact FAQs
1. Why use Bancontact at new casino sites?
Bancontact is a reputable payment provider in Belgium. Transactions are instant, safe and secure and most of the online casinos in the country accept Bancontact in their banking section.
2. How to use Bancontact for casino deposits and withdrawals?
To deposit and withdraw with Bancontact is simple. Just head to the Cashier page on the casino you usually play, select Bancontact as your preferred payment method and complete the transaction by entering the required information.
3. Is it safe to use Bancontact in an online casino?
Definitely! Bancontact follows strict standard security protocols to safeguard your data and personal information.
4. Are there fees for using Bancontact?
In most cases, no fees are charged. But if you want to withdraw from an ATM, then you will have to pay a fee.
5. What are the best alternatives to Bancontact?
To get to know other payment methods as good as Bancontact, we recommend you to have a look at Bank Transfer Casinos, Euteller Casinos and Paysera Casinos, to name a few.