A Guide to Online Baccarat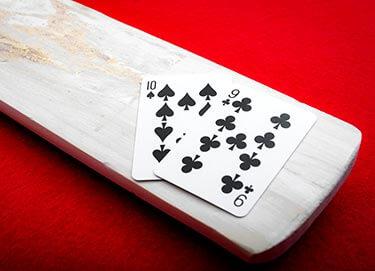 –Live vs Traditional Baccarat: Similarities & differences
–How Do You Play Online Baccarat?
–Online Baccarat Strategies: What you need to know!
Baccarat is one of the most popular casino games ever created, played in countless venues by millions of customers across the globe. The game has multiple variations and is a common choice for high-rollers, perhaps due to the aura of sophistication & elegance it exudes. While baccarat used to be more common in land-based venues and in Asian casinos, today the game can be found online on a majority of new casinos. See a top list of the best new casinos with baccarat below.
16 best new casinos where you can play Baccarat
It's a terrific time to be a fan of baccarat, thanks to the growth of online casinos. Previously, it was a bit of a rarity to find a real-world casino that offered the game. If you could find a casino that offered, it would then be a lengthy process of putting on your glad rags and making the long journey.
Today, it is much different. Nearly all online casinos will offer one or more baccarat tables, with multiple versions and the option to play with a live dealer or against a computer. With all the added convenience an online casino offers, so whether you are at home or on the go, you can log on and enjoy baccarat to its fullest.
Never played baccarat before?
Well, you have come to the right place, as you can learn how to play baccarat here, then grab your phone or laptop, pick one of the best online casinos from our above toplist and dive in today. We are your one-stop-shop to learn how to play baccarat and win!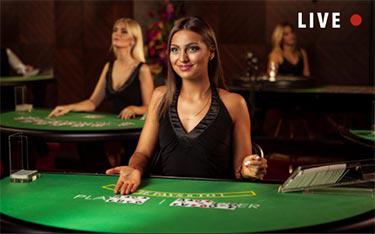 How is Live Baccarat Different to Traditional Baccarat?
As with most casino games, playing online and in a brick-and-mortar venue is a different experience. There are usually some pros and cons associated with each, and baccarat is no different. For a start, you have the buzz of the casino itself in a land-based venue: there are dozens, if not hundreds, of fellow players around you, all having a good time. This can create something of an electric atmosphere, and this plays a large part in bringing fans back again and again. Of course, not everyone is such a social creature – you might find the presence of other players, whether at your table or further afield, a frustrating distraction. If this is the case, live baccarat can be much better for you, in that you'll be able to focus on your own experience much more as you sit at your computer or tap away at your mobile device.
Another benefit is that live baccarat online moves faster than the real-world equivalent. You can expect quicker dealers and fewer delays from other players, helping the game to flow in a more fluid, exciting way. With live baccarat, you don't need to be afraid about missing the presence of a dealer. You rather select the type of dealer you prefer. Live baccarat is often hosted by glamorous dealers and features the same sense of sophistication as their offline counterparts. It's definitely worth considering if you're looking to ease yourself into the new online casino world of baccarat after playing it in brick-and-mortar casinos for years. Online baccarat also runs on a Random Number Generator (RNG), ensuring the game remains fair again and again.
Online baccarat tends to offer lower minimum bets too, enabling you to take part even if you're on a modest budget. Another key difference between playing online and offline? The free-play modes. The best online casinos often give you the chance to play games for free before you commit any money, and it's incredibly helpful: you can try a game you've never played before ahead of wagering any cash, reducing your risk. This is an ideal option if you want to try baccarat but have no idea how to play it.
Brick-and-mortar casinos don't offer free-play baccarat, of course, so joining a table for the first time can be very intimidating. With online baccarat, you don't need to start wagering real money until you're ready. There are many different online baccarat games available in multiple variations and styles, created by a number of leading software brands. Top names like Evolution Gaming, NetEnt, BetSoft, and Microgaming all produce baccarat for online casinos, with smooth performance, immersive sound effects, and overall high-quality presentation. You can generally find baccarat at all of the most popular venues, though not every casino will work with the same game developers.
How Do You Play Online Baccarat?
Baccarat is one of the easiest online casino games to play, as well as being one of the most fast-paced. As such, it is the ideal game for new players looking to get a thrill and make money quickly.
Cards have specific points value in baccarat. Between two and nine (across all suits) are allocated their numerical value; tens, jacks, kings, and queens lack any point value whatsoever, and have zero worth; aces are allocated a single point, and the jokers are left out of the deck altogether.
One confusing area we should touch on is that hands that are added together will be granted their value based on the number on the righthand side of the total value. For example, if you had a hand of 4 and 4, your hand would be valued at 8 in all, but if your cards added up to anything over 9, their worth would differ. A hand of 7 and 4, for example, would have an overall value of just 1, as that's the rightmost digit in 11. In a nutshell, no baccarat hands can go over the value 9.
As mentioned earlier, there are a few different types of baccarat, but the most popular is the Punto Banco. This is just standard baccarat and will be titled as simply 'baccarat', so this is the most important version to understand. The dealer will take cards from a large stack of made of between six and eight decks (the latter tends to be the most common). Players are asked to bet either on the Player or the Banker, while a side bet can be placed on a Tie outcome.
The dealer deals two cards for the Player and the Banker, both face up, and the hand nearest to 9 in total is declared the winner. The payout for anyone placing a bet on the Player will be double their initial bet if the Player's hand is the closest to 9. While wins on Banker-winning hands generate just 95% of the bet. If any cards dealt are over 9, the two must be added together to ascertain its value; as we explained earlier, the first number is dropped and the rightmost is the remaining value. This may take a little bit of getting used to but becomes second nature after a while.
If the Player or the Banker get an overall 8 or 9, a win or tie is announced. However, if neither the Player or Banker manages to secure these figures, a third card may need to be drawn. A Player with between 0 and 5 will be allowed to draw a third card, but if they have between 6 and 7, they will need to stand. Should the Player do so, the Banker has to follow the same path.
Variations (h3)
While Punto Banco is generally the standard game of baccarat at UK online casinos, you'll often have a choice between this and other forms. Chemin de fer differs from the American-influenced game in that players are invited to do the dealing (rather than the dealer), and the role of Banker is passed around the table. Players also have the choice to stand or take another card if their hand totals five.
Baccarat en Banque is another variation, mostly found in Europe, and is typically played with three decks of cards. The Banker role will also be auctioned off to the player most willing to take a major risk. Super Pan 9 is mainly played in the USA and has a deck of just 36 cards. These are only the face cards, aces, 2, 3, 4, 5, and 6. The Banker and Player are dealt three cards each at first but have a chance to draw an extra card to get as close to 9 as possible.
With three-card baccarat, you'll have one deck of cards only and Banker and Player receive three cards each. The highest hand you can possibly get is three face cards, but other standard rankings still apply beyond this. Mini baccarat is the same game, but you play at a smaller table and for smaller stakes. Another version that is frequently found at online casinos is Speed baccarat. This is a super-fast alternative to the traditional game that on average takes 20 seconds less than the classic version for more fast-paced action.
As you can see, playing baccarat takes some getting used to, but it's incredibly exciting and rewarding when you get to grips with it. While it will take you a while to be the next Phil Ivey, baccarat isn't a game that difficult to master.
Online Baccarat Strategies
Looking to learn some helpful online baccarat strategies? Let's look at a few to help you get off to a solid start.
– Never bet on a tie, as you'll rarely win; online casinos typically provide major payouts on these, but for good reason, as it's not really worth going for.
– Consider playing variations of baccarat with fewer decks – the fewer cards there are, the better your odds of winning become. Take a look around the best online casinos to find those forms of baccarat featuring fewer decks, and give them a try. As you become more comfortable and confident, you can upgrade to those variations with more decks at play.
-Avoid Speed Baccarat- While we mentioned this game above, it is not advisable to play it, for the simple reason you will end up losing more much quicker than the standard version.
– Stay on top of your bankroll! This is just as important in baccarat as in other online casino games. Set a limit before you start playing and stick to this throughout. Keep your bets low when you begin experimenting with baccarat in all its forms, and then up your stake amounts as you get a feel for it.
– Try not to focus too much on spotting patterns or taking note of previous hands. Online baccarat is designed to be random each time, with no relation from one game to the next. Concentrate on doing the best you can with each pair of cards you're dealt, and have fun. Don't look for patterns or clues that may not be there.
– Stick to One or the Other For Long Period – In accordance with the rule above, don't switch your betting around too much. Especially when you enter a table for the first time, it is good to select either the player and banker and stick with it for a while, until you get a feel of the gameplay.
– The Banker generally has a house advantage- So bet on them often. You may not want to do this every time, but it can work out in your favour if you try it on a regular basis.
We hope this guide will help you know how to play baccarat casino games and unearth your passion for baccarat. Start slow and steady, and acclimate yourself to the rules of each variation; try playing for free and you'll soon develop a taste (and flair) for the game.