7 Questions to High Roller Casino: Exclusive Interview [Must Read]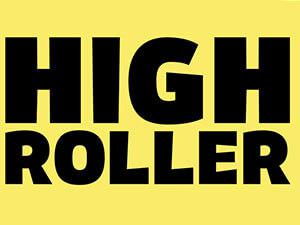 NewCasinos.com has secured an Exclusive Interview with High Roller Casino, a brand new and innovative site that entered the market this November 2017. In this article you will find essential information and you will learn about the gamification concept right from the experts. At first sight, you will like the revolutionary interface and the mysterious yet playful characters will welcome you and guide you through the casino platform. High Roller Casino offer a generous welcome bonus when joining the site. Sign up and receive 200% up to €100 bonus plus 50 Extra Spins. Get Your Bonus Now.
Here Follows the 7 Exciting Questions:
Question 1. You are taking gamification to new level with the ability to nick/grab bonuses from inactive players. How did you get this idea? Are there any other unique parts on High Roller that makes it different?
A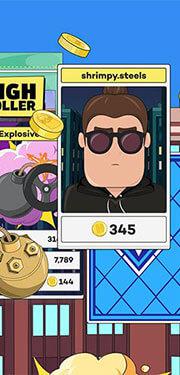 nswer: Nordic casino operators have been known in recent years to try and push the boundaries and the very definition of what new online casinos should be. Highroller is a natural offspring of this tradition. Having followed and deconstructed the success of many casual, mobile, and social games, we believe to have gone one step further in breaking the notoriously hard nut of converging cash gaming and social engagement features. Beside the looting aspect, some of our other unique features – avatars, virtual currencies, for example – arose naturally from a very simple initial assumption: Fun inside and outside the casino game itself do not have to be mutually exclusive.
Question 2. 20 game developers from startup is not a joke. That's what a real High Roller can play with. However,  we do not understand how you managed to bring in so many games, over 900, from start. Do you have any favorite games that should be tested by our players?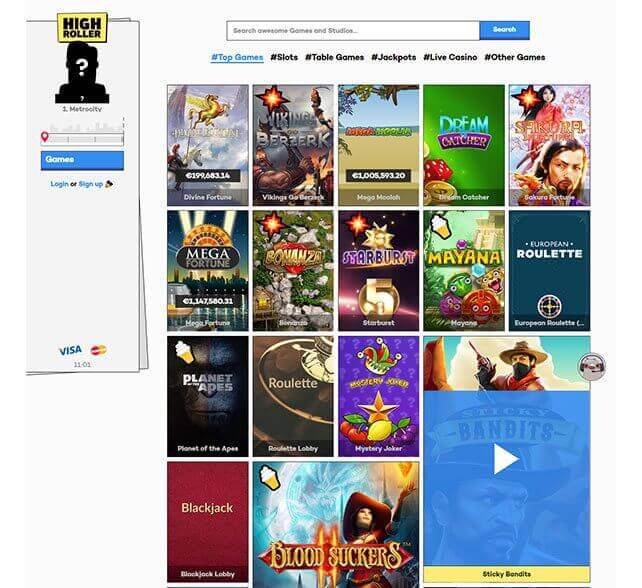 Answer: Its actually 750+ games at this stage. In the interest of quality and portfolio management, we are deliberately restricting the number of games from a list of 1000+ available through our provider and sister company iGamingCloud. This is not to say the list is set in stone, it will seriously grow in the coming months. As a game recommendation, we're pretty big on Quickspin right now, our most played in the office these days are Pink Elephants, King Arthur and White Rabbit, give them a good spin.
Question 3. Do you have to bet huge to be able to enjoy High Roller Casino? What are the "limits" (if any)? (Perhaps you can name a few limits / minimum deposit to get bonuses so people understand this is not only for super big players)
Answer: Absolutely not. In fact we aim to redefine common perception of what a Highroller is. Play big, play small, just play. As an example the minimum deposit for our Welcome bonus is only €10. At Highroller.com, you can call yourself a Highroller as soon you are happily engaged in the experience and feel part of the community. Big players are obviously welcome, and are catered for with the special attention and service they deserve.
Question 4. Which bonuses can VIP players at High Roller enjoy? We're talking about both real high rollers and even for smaller players.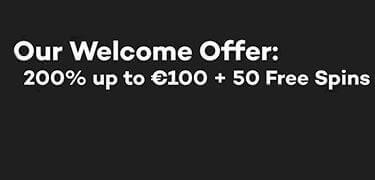 Answer:
Our welcome offer was designed to provide players with an extra push into trying the unique aspects of the casino. Not only do new players get a 200% match bonus up to €100 + 50 Extra Spins (10 per day for 5 days), they also receive 20 coins and a free Sting just for signing up. What's a Sting? Let's say its better experienced than explained, so we invite you to signup and find out by yourselves. Highroller's progression system also rewards players automatically as they level up and progress through Metrocity districts, based on their gaming style. The more you play the more you get, it's that simple. As mentioned above, Highrollers among Highrollers will be shown the red carpet, in the great tradition of our sister brands. GET YOUR BONUS NOW.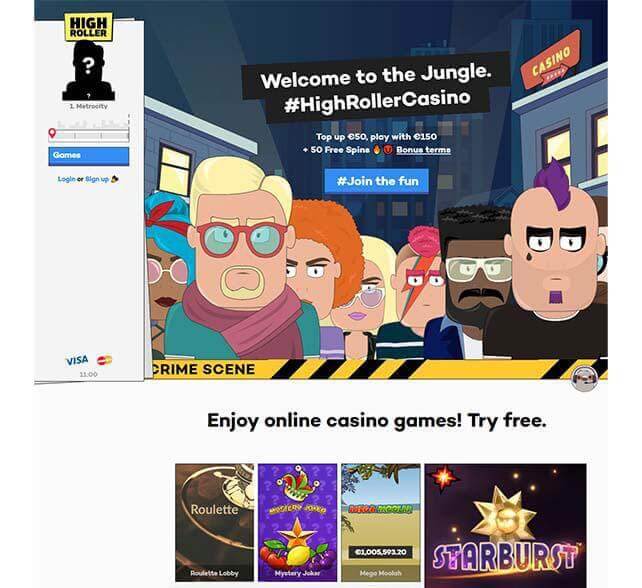 Question 5. The design on the site is very unique. It looks like a true adventure. From what we understand, you can also "pimp up" your player/character. How does that work? And what are the benefits in setting up and engaging with your High Roller figure?
Answer: Nothing easier. As soon as your signup is complete, the system allocates you with a random avatar. Chances are extremely high that it will look nothing like you. You can customise your character right away, and we promise you'll have fun doing it. One of the TVs in our office broadcasts the activity feed from the site, that shows all the avatars our players have chosen. This is great fun. Some players clearly try to make their avatar look like themselves, others are going outrageously awol with their appearance. Think techno glasses, afro hairs and Borat swimsuits. Sometimes together. Your avatar is visible to other players from the activity feeds on site, and in the Sting game, where players can loot coins from others. Once you've looted coins, the player you looted from is stored as a card in your collection section. Your Hall of Fame, their Hall of Shame.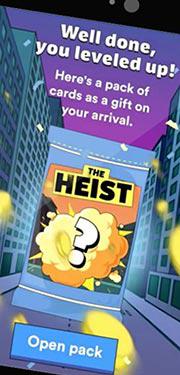 Question 6. High Roller can be enjoyed in a place called Metrocity. What is that? How does it differ from the other standard/boring casino sites?
Answer: Once the concept or virtual currency expiration/reallocation system  – or looting as we call it – was in place, the theme came naturally. Metrocity is an edgy, urban environment, where everything can happen. Our team of graphic artists has done wonders creating an environment fitting the concept, and we hope players will enjoy that too.
Question 7. What is the main reason (or main reasons) to try High Roller Casino instead of any other new site? What are you doing better?
Answer: For starters, its not everyday you get to steal stuff from other players at an online casino. Not cash of course, only their coins, a virtual currency that is granted daily – whether you login or play or not – and earned through progressing on the map. It adds a layer of fun we believe separates us from the rest. Besides this unique feature, our great selection of games, our reputable parent company, our avatar system, our level up animations and rewards, and the unique appearance and brand tone of the casino all set us apart. Now we could speak at length about how unique Highroller is, the best way will always be for you to go visit, play around and make your own opinion. We've worked very hard >
Read Our Review of High Roller.
Get Your Rewarding Bonus Now!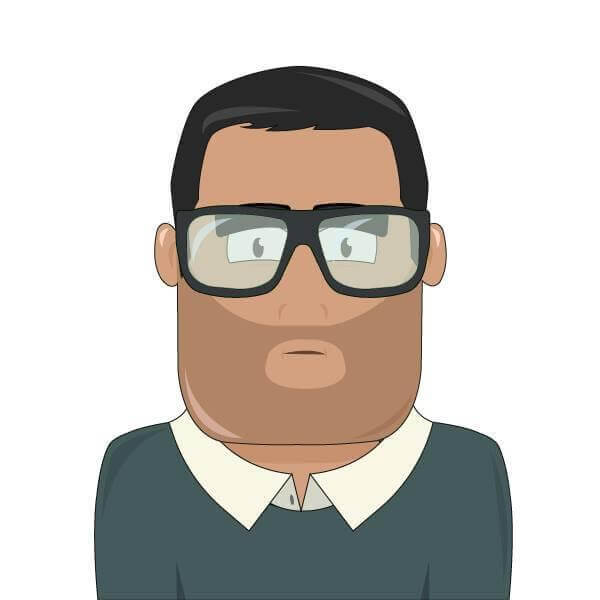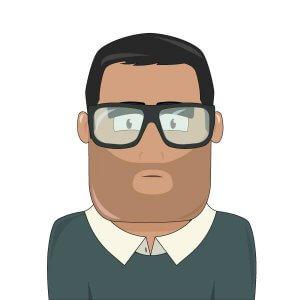 Many thanks to Bruno for making this interview with Pierrick Leveque happen.

Last update: 2 years ago
100% up to €100 + 100 Free Spins
Deposit bonus
No cryptocurrencies accepted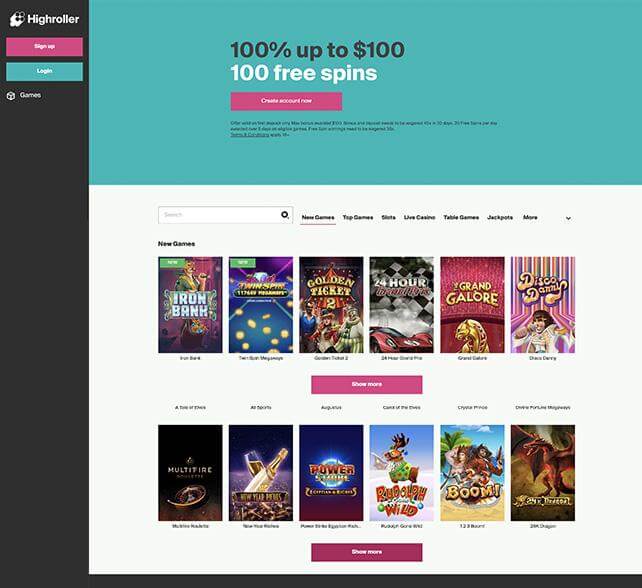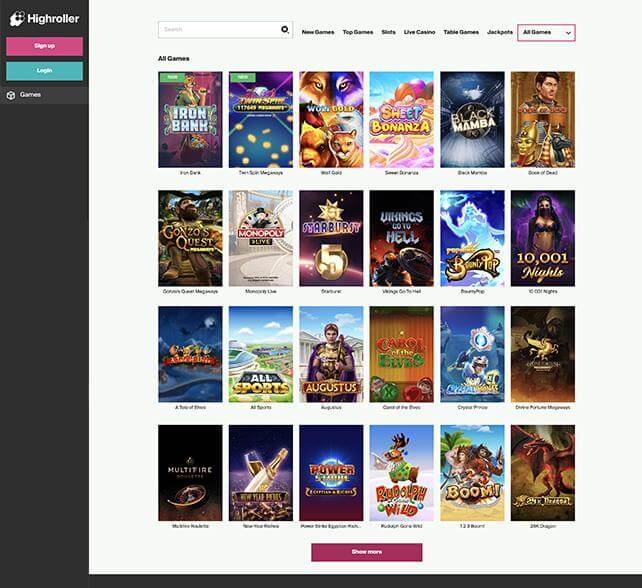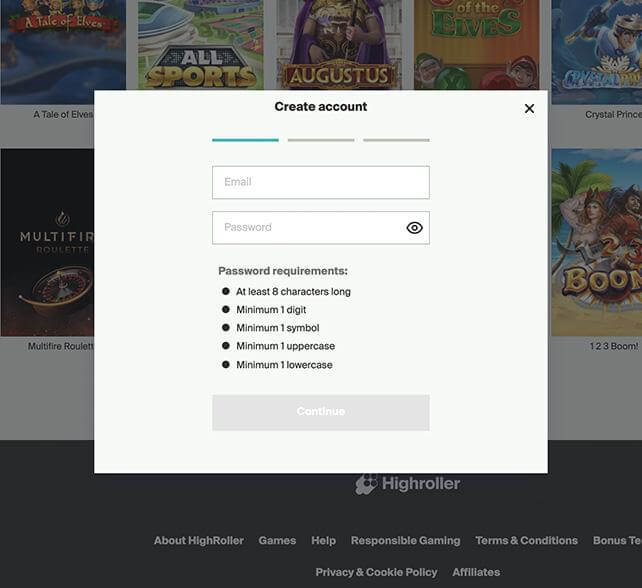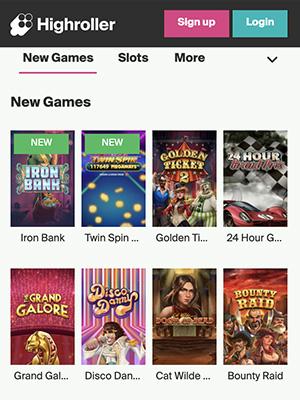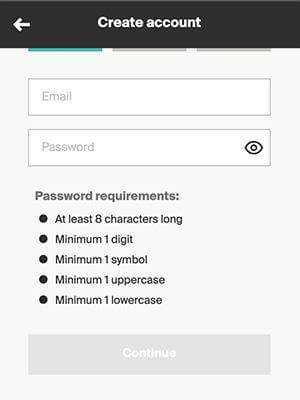 Nick bonuses from inactive players. Experience gamification on another level.
Brand-new layout
Over 1300 casino games
New Welcome Bonus
Not many live tables
No phone support
Mentioned in this Article