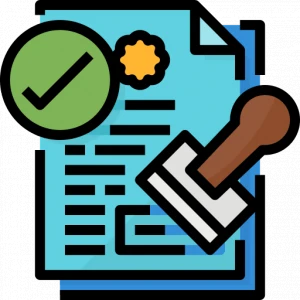 Every new online casino we review and offer to you here is a licensed casino, which ensures you are protected against potential fraudulent sites out there while playing online. Here you get an overview of the licences available and more information about them. Simply choose your preferred licence below and discover the latest licensed casinos you can join.
Note: You can also see all licensed casinos sorted by software developers, deposit and withdrawal methods and bonuses.
Features of the Gaming Licences
There are basically three types of operating licences, these are non-remote, remote and ancillary. We will focus more on the remote licence, which allows an operator to offer casino games to customers via a website, mobile phone, TV or other online services. The games allowed are poker, roulette, blackjack, and other casino games, as well as online slot games.
All licences bond the operators to a strict and well-defined set of rules, restrictions and best practices to guarantee fairness and player satisfaction while avoiding criminal activities and unhealthy gambling behaviours.
Responsibility of the Gaming Licences
All licence holders must abide by not only the licence requirements but also by countries regulations and laws if they want to operate legally and sustainably. Although these responsibilities may vary from country to country, in essence, they are the same and aim to safeguard players and the community.
Guarantee the protection of player's funds
Anti-money laundering practices
Ensure game fairness
Promote healthy gambling behaviour
Perform detailed customer identification (KYC)
Advertise their products responsibly
How to Tell if You Are Playing at Licensed Casino
If you sign up with any of the online casinos at NewCasinos.com you can rest assured that these are licensed casinos. If this is not the case, then you can do a simple check using 2 different ways.
Scroll down to the footer of the casino website and look for a licence logo or link (UKGC, MGA, Curacao, etc); this link will take you to the regulator's page and should contain the casino's information, where you can attest the veracity of their business.
The other way is to check if the casino is in one of our closed or blacklisted casinos, if they are there steer clear from this casino.
Benefits of a Gaming Licence
All gaming licences come with their own perks, but apart from the obvious benefit of being able to operate legally in a country and offer games to players, some licences might be more attractive than others depending on what type and size of the online casino.
The benefits are generally financial, for example, the licences usually have different fees based on annual gross revenue generated, thus catering for all sizes of online casinos. This allows individuals to set up businesses without the need for excessive investment.
Some licences have more lax requirements or impose fewer restrictions on advertising on mass media. The UKGC, for example, is well-known for handing hefty fines to casino operators over advertising breaches.
Risks of a Gaming Licence
There are no real inherent risks of a gaming licence as per se, only the normal risks associated with any venture. Being able to go through the long and expensive process of setting up an online casino operation and acquiring a gaming licence to operate while keeping cash in the till is a challenge in itself, for example.
On top of the dire possibility of going bankrupt, there is the constant risk of breaching the licence agreements and getting fined by a regulator. As mentioned above, certain regulators are very strict and sometimes hand out fines that can shut down a casino easily.
Complaints Against Licence Holders
The skies are not always blue in the iGaming industry and even licensed casinos receive complaints from players and watchdogs sometimes. The claim can have real grounds and although all licence regulators advise players to seek resolution or an agreement directly with the licensed casino, this might not be always possible.
If the online casino refuses to agree with your claims, an ADR (Alternative Dispute Resolution) body must mediate the dispute and seek a beneficial outcome for both parties. However, if even with mediation the issue cannot be solved, players are advised to the matter to the legal courts of their country.
You can find more information about complaints against licence holders here.
Recent Legislative Changes
We are constantly following the latest trends and news about everything related to the licensed casinos and regulations affecting your gameplay.
Although rare, regulators can change certain clauses or restrictions of the licence agreements as lawmakers and civil society demand and need. The most noticeable changes that happened in the recent past were related to the UKGC and the ban of payment methods, which started last year with credit cards being banned from only casinos in the UK.
Swedish gambling regulators also recently announced that fewer restrictions will be in place for operators, which was a welcomed move.
To make sure you are up to date with the latest legislative changes, keep an eye on our blog.
References
Gaming Guide – Gambling in Europe by Nicolae Sfetcu (2016)
Sports Betting: Law and Policy by Paul M. Anderson, Ian S. Blackshaw, et. al. (2011)
FAQs
1. What is the Cost of a Casino Licence?
There are several fees, from application to fixed annual fees and others based on gross yield. To keep it simple, the UKGC licence basic costs start from £4,200 and go up to a few hundred thousand per year in some cases, an MGA licence costs around €25,000 per year and a Curacao licence annual cost is around €17,900.
2. What is the Game Selection at Licensed Casinos?
This can vary wildly depending on the licence and if the casino operator is part of a larger network of casinos or not. But the basic offer is always the same, slots, live tables and sometimes, a sportsbook section.
3. Are Casino Bonuses Available at Licensed Casinos?
Yes, almost all new licensed casinos offer a welcome bonus package for new players and reload bonuses for existing players.