Skillzzgaming is a casino software provider that started in 2015 and has been growing steadily in the past few years. Skillzzgaming is headquartered in Tel Aviv, Israel, and licensed by the UK Gaming Commission. Their games are available in several casinos from renowned platforms such as Nektan, Jumpman Gaming and Every Matrix.
New Online Casinos offering games from Skillzzgaming 2023
Last update:
August 25, 2022
Skillzzgaming Advantages & Disadvantages
Advantages
Innovative games with skills involved
Available in several platforms and casinos
Games have time-based bonus events
Disadvantages
The Story of Skillzzgaming
Skillzzgaming develops casino games from scratch, but it does take existing ideas from the most casual and popular productions. Skillzzgaming strives to make its casino games entertaining and compatible with other casinos and platforms.
One feature that really sells this developer is player involvement; the casino games allow for random number selection, but the player is challenged to apply strategy and thinking. Casino games developed by this company are available on Microgaming, Quickfire, Pariplay, iSoft Bet, and other platforms.
Skillzzgaming is not about the number of casino games it presents to the market, but rather the quality, which rivals names three times bigger. It partners with established B2C gaming organizations to bring its products to the market in all parts of Europe as well as Israel.
Even though its headquarters are in Israel, the developer is licensed in the UK, and so it can work with all partners meeting this jurisdiction's terms. Skillzzgaming mainly focuses on mobile-optimized casino games –such as match 3 and runners – and casino slots, and it has been adopting the HTML5 platform to develop casino games since inception.
Skillzzgaming joined the gaming world with a thud that attracted big platforms such as Microgaming and Quickfire. A year down, iSoftBet, Pari Play, Bet Construct and Every Matrix joined.
This recognition by big platforms led to casinos all over Europe wanting to be associated with this online casino developer. Currently, Skillzzgaming casino games are available in over 20 casinos, and the number is expected to grow as the developer releases more titles.
Features and Services
Skillzgaming aims to create a different experience by bringing video game elements to casino games. Players can reveal new content as they progress, which allows a more immersive experience into the game and motivates them to keep playing.
You can also unlock time-based bonus events, during which players can win bigger prizes – a new and revolutionary feature for real money gaming.
This is possible by their new MATCH-3 games genre, which is taking operators and players by storm. This new line of games has similar mechanics to the ones used on "Candy Crush", hence the almost instant success.
Security and Licenses
Games developed by Skillzzgaming are certified in a number of jurisdictions, including the UK, Malta, Gibraltar, Sweden, Spain, Columbia, Isle of Man and Denmark so far.
Skillzzgaming Portfolio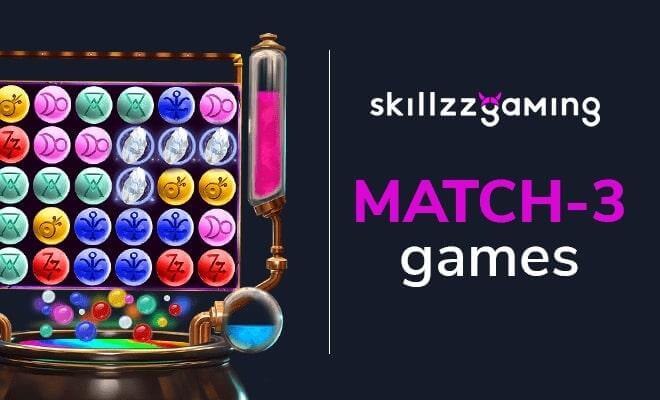 Among the most popular games developed by Skillzzgaming is Mega Money Push, Fruit Blast, and Alchemy Blast. One of its first casino games, Race to the Finish, features cars, boats, and plans, and gamers collect coins and bonuses to advance to the next level.
Game Play and Fruit Blast resemble Candy Crush in some ways, while Gems Odyssey requires layers to match their tiles so they can collect their rewards. They are all so engaging and require the player to be alert to win.
One of the factors that make Skillzzgaming casino games stand out is the mix of luck and skill. Players don't just have the system generate random numbers for them, they also have to be strategic in the way they play for them to win.
Planning, strategy, and reflexes play an integral role in increasing the RTP percentage, which only makes players more involved. In this aspect, they are unlike most casino games.
Another outstanding feature is the captivating but straightforward interface. These casino games are developed with the intention of making them easy to integrate with products from other developers. The gaming software is made to meet the strictest of industry rules, and to make for easy withdrawal, even though this will vary from casino to casino.
Highlighted Games
Alchemy Blast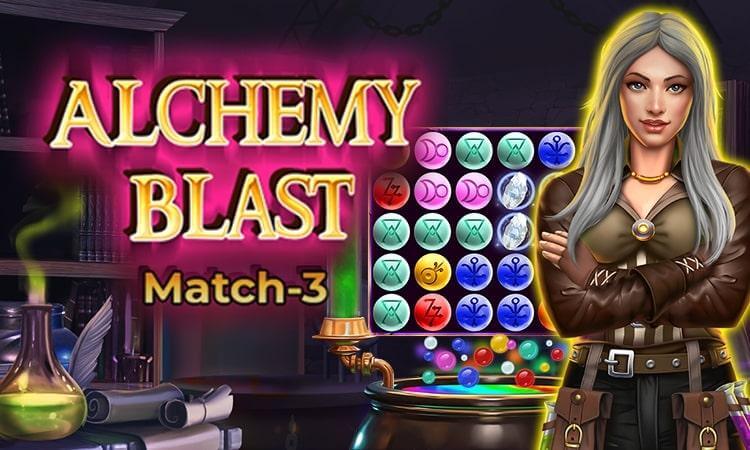 Explore the mysterious corridors of the Academy of Magic alongside Lita Flamel, the helpful headmistress, in this magical match-3 game, and uncover its hidden secrets. This is a 5×6 playboard matrix with countless winning options, 3 exclusive bonuses with the elixir feature, mega wins of up to 1000x your bet. Also, you can level up from apprentice to master alchemist as you play, unlocking more special features. This game was launched on Microgaming's content aggregation platform in March 2020.
The game's volatility is medium/hard and attractive for players that like a volatile experience with higher wins.
Pets Go Wild
Join Dexter the dog and his friends in an exclusive match-3 game with 8 adventures. As you progress in the game you can unlock new chapters and exciting bonus missions. Some of them are: Hiding in the haunted house, moon jumping, shooting out of a loony cannon and more. Collect five stars in these events to join the gang in a luxury cruise where every win gets a 30% boost as well as the chance to win 1000x your bet.
Battle Royale
Here you choose a team of hero characters and lead them into battle against evil, unlocking bonus features as they triumph on each battle. Real money prizes are the rewards for their unwavering bravery. This game comes with a special event, which opens every 12 hours, during which wins are increased by 25% and players can win up to 1000x your bet.
Fruit Blast
This is where you find the most similarities to the famous mobile game Candy Crush. You can play with different bartenders and their unique bonuses and, landing 3 or more matching symbol clusters fills the shake glass, granting real money prizes. You can also collect stars, complete missions, unlock 8 bonus features and even win a jackpot prize!