A Guide to Online Roulette
– The Beginnings of Online Roulette
– How is Online Roulette Different to Traditional Roulette?
– How To Play Online Roulette?
– Online Roulette Strategies
No casino is complete without roulette. In land-based and new online casinos alike, roulette is a perennial favorite of players the world over, popularized in lavish movies (such as the James Bond adventures) again and again. Online roulette is fast-paced, exciting, and accessible (but this doesn't mean it's the simplest game to play). Close your eyes and try to conjure a picture of a generic casino in your mind's eye: you'll no doubt see a crowd of well-heeled people surrounding a roulette table, cheering, staring at the spinning wheel with wild eyes.
Along with blackjack, poker, baccarat, and a few others, roulette is a core part of the gaming experience. In this guide, we'll take a look at the history of roulette, the various differences between online and offline gaming, showcase some new popular versions of roulette such as double ball, and finally we discuss a few key strategies to help you get ahead.
Hints: Try Casino Calzone if you would like to experience roulette with 2 balls instead of simply one. Two new casinos are specialized in live roulette, with over 10 different options. Read more about Codeta, a site created by table game experts. Finally, for everyone looking for the highest bonuses with real money, sign-up for Casimba.
11 best new casinos where you can play Roulette
The Beginnings of Online Roulette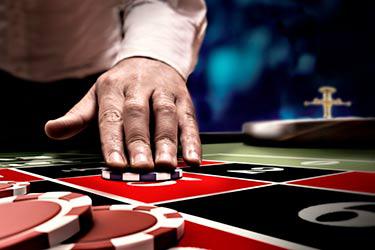 Roulette is known to date back to France of the 17th century, when one Blaise Pascal brought an early version of the game on his journey to creating a perpetual motion machine. The roulette wheel at its most basic is thought to combine a number of traditional English wheel-based games (such as Reiner, Ace of Hearts, Roly-Poly). Roulette as we know it today has been enjoyed by players since 1796, beginning in Paris. The classic French book, La Roulette, ou le Jour (writen by Jacques Lablee) features an early insight into the game. Decades later, in 1843, a German town known as Bad Homburg brought the single 0 style wheel, to take on rival casinos which provided players with the standard wheel using single and double zero pockets.
Throughout the 19th century, roulette went on to gain traction across the United States and Europe. It became an incredibly famous, beloved casino game much as it is now, though it wasn't until roulette hit New Orleans and the surrounding area that the wheel was put on the table; this was to stop unethical players cheating. With the explosion of online gaming in the 1990s, roulette became one of several popular casino games to be translated to the screen. The Random Number Generator (RNG) enabled developers to recreate the chance-based gameplay of roulette with impressive authenticity. Software improved and evolved, allowing players to enjoy a deeper, more immersive version of roulette on their computers, until mobile gaming made it portable.
Smartphones and tablets give players access to a wide range of different roulette games, including multiple variations, at any time, any place. You can enjoy fast gameplay, smooth visuals, and dynamic animations through mobile websites and / or apps. VR is the next big step in online roulette, and there's an expanding range of virtual-reality roulette games. Medialivecasino has claimed to have the first live VR roulette game, while Microgaming has also developed its own version. Using a VR headset and motion controls, players can immerse themselves in the fun and excitement of authentic roulette, getting a true atmosphere without leaving your own home. A 360 degree view of the environment makes for a far deeper type of game than mobile gaming, and interacting with other players / dealers feels more realistic. As more software developers experiment with virtual-reality technology, VR roulette will become more and more commonplace.

How is Online Roulette Different to Traditional Roulette?
Playing online and offline versions of any casino game has major differences. You can expect pros and cons for both, and your own personal preferences will affect which appeals to you most. Roulette is no exception. For one thing, online roulette is a solitary game. You can play by yourself on your smartphone or computer without the potential intimidation of having to share a roulette table with many other players, all of whom may well be more experienced than you. This can seriously detract from your enjoyment, lead you to make decisions you don't fully understand just to keep up, and potentially get in over your head.
Playing online roulette at new casinos is far more accessible than land-based alternatives: you can dive into the game and experiment with it, getting to grips with the rules and pace. Most online casinos will enable you to play a free version of roulette before you graduate to a real-money version. It's a terrific way to make learning the game far simpler and cost-efficient. Another difference is that you can play multiple variations of online roulette on one site, switching from European to American and others with ease. You may be unable to do this at brick-and-mortar casinos.
The RNG element means the game remains fair, and developers have to ensure the sense of speed, fun, and dynamism so inherent to roulette is captured in online versions. Some of the biggest software developers in the industry have created multiple types of roulette, including live ones with real-time play and professional dealers. NetEnt, Microgaming, Betsoft, and Evolution Gaming have all created their own versions of online roulette, compatible with mobile and desktop devices alike. You'll find many of these available at some of the most popular online casinos. The best software developers ensure their roulette games capture the essence of playing at a brick-and-mortar venue, with realistic sound effects and slick animations. If you have a favourite developer, some casinos enable you to browse games by software house, so you can see which roulette titles are available from your preferred brand.

How To Play Online Roulette?
As with any online casino game, coming to roulette without experience can be incredibly daunting. This can affect how quickly you pick up the rules and take to it. You can give yourself a better start by looking into the various rules and elements of the roulette game ahead of time, rather than trying to figure it out as you go. There are several key features of online roulette. These include the wheel, the ball, the gaming chips, and the table itself (in brick-and-mortar casinos, you'll also have a croupier, which will be available in live online roulette games; otherwise, they're replaced by the RNG).
Basically, your goal when playing roulette is to predict the numbered pocket into which the ball will fall after the wheel stops spinning. In order to place your bet, you'll use chips that you put onto numbered spots, boxes, junctions, or lines on the table itself. All players are competing with the house, rather than each other.
Depending on the variation of online roulette you're playing, there will be a different number of pockets. In American roulette, the wheel features 38 pockets, while the European variety has 37. Why? Because in American roulette, there is a zero and a double zero (represented as a '0' and '00'), while European roulette features a single zero. Half of all pockets are black, and the other half are red. Your zero and double zero pockets are green. Reds and blacks alternate one after the other around the wheel.
The numbers have a structure: odd reds are typically placed opposite consecutive blacks, with varying sequences. In European roulette, this sequences runs 26, 3, 35, 12, 28, 7, 29, 18, 22, 9, 31, 14, 20, 1, 33, 16, 24, 5, 10, 23, 8, 30, 11, 36, 13, 27, 6, 34, 17, 25, 2, 21, 4, 19, 15, and 32.
In American roulette, the numbers are placed as 0, 2, 14, 35, 23, 4, 16, 33, 21, 6, 18, 31, 19, 8, 12, 29, 25, 10, 27, 00, 1, 13, 36, 24, 3, 15, 34, 22, 5, 17, 32, 20, 7, 11, 30, 26, 9, and 28.
When you're trying to predict the outcome of a game of online roulette, you can choose the color segment the ball will land on (red or black), an exact number, a high or low number, or an even or odd number. So, now that we've covered the set-up of roulette, how do you play? You'll start by putting your chosen amount of chips as bets across the table, depending on which numbers / colours you think the ball will land in. You can choose a line or intersection lines if you want to make your spread reach wider, which means your overall win will be reduced while your odds of winning rise.
Once you've placed your bet (or, for live games featuring other players) the wheel will be spun by the dealer or yourself (by clicking a 'spin' button on the screen). As it spins, the ball travels in the opposite direction, and you're free to move your chips to different bets after the ball has started to move. Once the ball has shifted from the wheel's outer rim to the numbered wheel pockets, all bets will be stopped (you need to stick with your most recent bet, without being able to make any others). When the ball lands in a pocket, a marker appears on the table to show the winning number and colour. All winning bets will be paid out, and a new game can be started.
What's the terminology for online roulette bets? Inside bets are those put on the table's numbered section (including lines and / or intersections). Outside bets, on the other hand, are put in the boxes beyond the numbered area, including those on red / black and odd / evens. There are many different types of inside bet, including a split bet (placing chips on anything between 7 and 1, with two numbers), a street bet (three numbers in a row between 11 and 1), as well as a base bet (covering 1, 2, 3, and one / both zeroes between 6 and 1).
In outside bets, you can make such bets as low (betting on all numbers between 1 and 18), high (all numbers between 19 and 36), red or black (betting on the ball slipping into any single red or black pocket), or even (betting on the ball slipping into any even number on the wheel). The best online casinos will provide you with the various rules and bets on each roulette variation, and the free-play mode enables you to get to grips with them before risking any stake money.

Online Roulette Strategies
With online roulette running on a RNG, it's a fair game at the best casinos. You can try different strategies and tactics to increase your odds of winning.
The Martingale Strategy –
The Martingale strategy is based on changing the amount you bet when you're winning or losing, doubling your wager when you lose a spin and reducing it to the minimum amount available after a win. Let's say you make your first bet £1, yet you lose, so you up your bet to £2. Losing again would prompt you to increase your stake to £4, and then £8, and onwards. After winning, you'd go back to the start and wager £1 again.
Fibonacci Strategy –
Another strategy you can try is the Fibonacci sequence: this involves using a run of numbers in which each is the sum of adding its two predecessors together (1, 1, 2, 3, 5, 8 etc.). You'll jump ahead one step in the sequence after a win, and then two steps behind after a loss.
Watch your Bankroll –
Remember to never bet more than you can afford, to avoid getting out of your depth. Start small until you start to get a feel for the rules, and then increase your stake amount as you get better and better.
Outside Bets –
When you're first starting to play online roulette, stick to outside bets of red / black and odd / even. These are generally a little bit easier to follow, and you'll get a better idea of betting on inside bets (which bring a higher risk).
Online roulette can always be depended upon for a fast, exciting gaming experience. With a number of different variations available at the best online casinos, you have access to different rules and outcomes, so be willing to experiment to find the one that suits you best. We hope this guide has helped you understand online roulette and gives you the information you need to take your first steps into this exciting, timeless game.