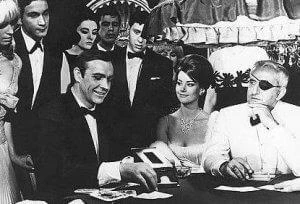 Even though the likes of James Bond with his punto banco exploits and Clark Griswold in Vegas Vacation presents us with a lonely casino experience, the reality shows more and more couples having fun together, either playing online or going to a traditional casino.
Valentine's day is the perfect date to talk about couples and what they do together. Obviously you can take your partner out for dinner or go on a holiday trip but have you ever played any casino games together?
That's because the entertainment value offered by casino games can be instantly improved with your significant other by your side. Playing alone is fun, of course, but when you have your loved one supporting you, giving tips or simply watching, the experience can be much better.
Couples that Play Together Stay Together
In a study conducted by Dr Arthur Aron, a psychology professor specialized in interpersonal relationships at the State University of New York put this theory to test.
In a 2000 paper titled Couples' Shared Participation in Novel and Arousing Activities and Experienced Relationship Quality, Dr Aron subjected one group of couples to novel and arousing tasks, another group to mundane tasks, and a third to no tasks at all as a control.
According to their paper, couples reported greater levels of "relationship quality" when they experienced engaging and entertaining tasks together and we can all agree here that casino games certainly qualify as engaging and entertaining.
A Lovely All-in Poker Story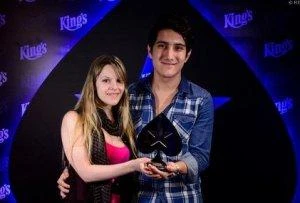 A good example of how couples play well together is with the champions Maria Lampropulos and Ivan Luca, both outstanding poker players that found out that joining forces would make them unstoppable.
It all started in 2016 when Ivan found himself playing on the Eureka Poker Tour Main Event for a grand prize of €106,186, but Maria was sitting across the table. Ivan ended up defeating his girlfriend on that day, but one year later she would go and take the first place at the 2017 PartyPoker Millions Main Event, winning a whopping £1,000,000 prize.
She did it again in January of 2018, taking home a massive prize of $1,081,100 at the PokerStars Caribbean Adventure (PCA) Main Event. Maria then credited her relationship with Ivan for providing the support she needed. In her words:
I am extremely grateful for the people who believed in me, especially my boyfriend. Ivan always trusted me and helped me to improve and grow; whenever I had doubts about how I'd played a hand, he would help me regain my confidence by telling me that I can get do it.
It's Time to Show Some Love
Enough about other couples now and let's talk about what you can do with your partner in cards (pun intended). Even if you are not professional poker players, you can still take part in many fun and exciting online poker experiences.
From going on a casino cruise together to some lazy slots spins under the blankets at home, playing together with your partner makes the difference. Not only two brains think better about strategies but also celebrate better after a nice win (imagine a jackpot then).
Now that you know why couples can have a blast playing any casino game, why not decide with your partner where to play next? Take a look at our special Valentine's day list of casinos to fall in love with and enjoy a healthy and exciting casino adventure with your partner.
Take a look at these casinos to fall in love with
This list is based on some of our latest reader's choices but also features older casinos running exclusive Valentine's promotions.
One Casino

4.06/5
One Casino Review
100% up to €100 + 200 Bonus Spins
Visit
Ninja Casino

3.98/5
Ninja Casino Review
A New Bonus Every Day
Visit
Good luck and happy Valentine's day!

3 Articles
G. H. Moretto is the Editor at New Casinos.com and Nyecasino.org, also an expert in advertising and casino content with a passion for blackjack tables. He has managed research, content writing, translations and holds a degree in Social Communication with honours in Advertising, bringing to the table a decade of experience in the advertising and online gambling industries combined. Moretto was also directly involved in a Child Gambling project in the UK, which was discussed with several MPs to bring forward legislation changes to protect children. He has reviewed thousands of online casinos, slots and casino games and he definitely knows his way around bonuses, payment methods and trends. This casino enthusiast is an Editor at NewCasinos.com on a mission to reveal all the secrets of the industry with in-depth and unbiased reviews. Moretto aims to educate new and seasoned players about the risks and rewards of all new casinos, their bonuses and features to help players make better-informed decisions.
More info on G. H. Moretto