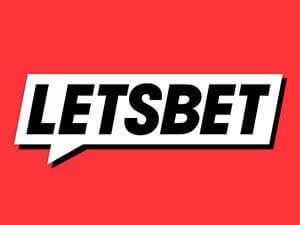 LetsBet is a brand new online casino for 2018 that promises to take your gaming to the next level. This exciting new addition to the igaming industry is packed with innovative gaming experiences that really sets it apart of its many competitors in the industry. Here is a casino that combines social gaming with a traditional casino atmosphere to really amp up your experience wherever you are – directly from your home or while on the move.
If you are looking for an innovative, user-friendly, casual and rewarding gaming platform, then let's bet with LetsBet Casino. We at www.newcasinos.com had an exclusive interview with LetsBet Casino that will give you all the insights of this brand new and unique gambling platform. Here comes the 8 questions: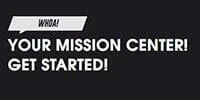 1 – Lets Bet sounds like a new gaming site where it's time to get started, a site that needs to be discovered. The name gives us the impression that you can enjoy all types of betting, but initially mainly slots, jackpot games and table games. Will live betting also be available within short? Further, can you please describe the concept behind Lets Bet and give us an estimate what type of players you think will enjoy it?
Answer: Great question and you are spot on – LetsBet is a brand new type of online casino and just describing it in text will not do it justice – it needs to be experienced! We believe players of today needs something more than just a spin button, so we set out to double the entertainment with a 7-hour daily casino talkshow, which is live streamed in full HD and hosted by our very own Live Hosts. The player can win extra prizes, chat with our hosts and catch up on the latest gossip. Yes, you are absolutely right – we chose the name LetsBet as our intention is to add sports betting section down the road, but no clear dates at this point. We believe the live streaming format would work extremely well for sportsbetting as well, so yeah…exciting times ahead indeed!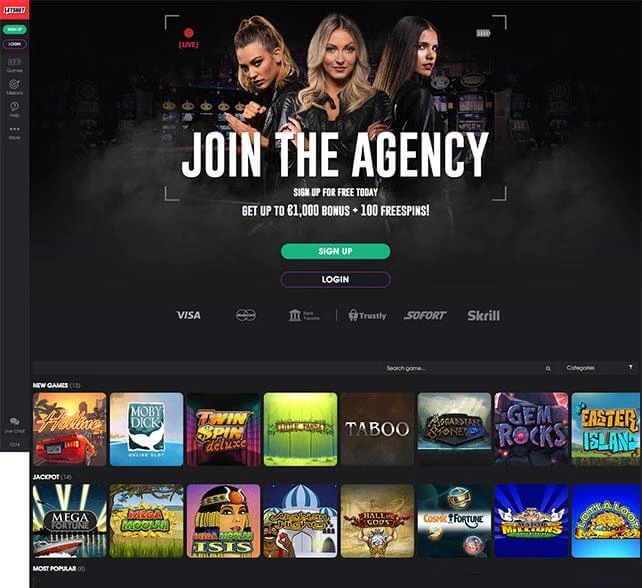 2 – When you enter the site, three female spies greet you. Can you please explain a bit about those characters, looking a bit like Charlies Angles?
Answer: We wanted to create a thrilling and exciting casino experience and we think the world of secret agents is really fascinating, so we setup the fictional "LetsBet Agency". After registering, the player becomes the new recruit in the agency and will be presented with a series of agent assignments to complete. For each assignment completed, the player will get a free spin on our Spy Spinner wheel with plenty of nice rewards such as free spins and bonus money. The concept was indeed inspired by Charlie's Angels, who by the way has announced a new movie in 2019, but also other famous secret agent movies such as James Bond, Mission Impossible, Jason Bourne etc. has provided inspiration along the way.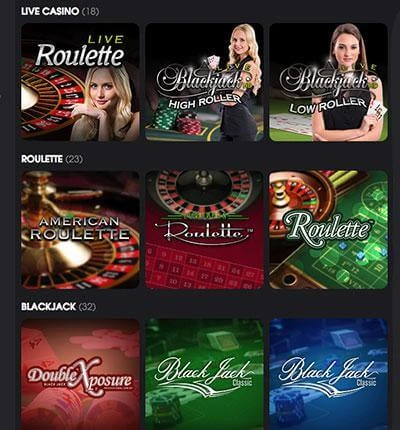 3 – Let's Bet is the first online casino we've seen with a proper chat functionality similar to Facebook's features. Here you can talk with friends or find new friends with similar interests. It gives a feeling of being more "alive", more active, more like in a land based casino. Has that always been the plan? How did you guys come up with this idea?
Answer: I'm so happy you mention "like a land-based casino", cause that was exactly what we said out to do from day 1, from the very first brainstorming meeting in fact. We did a lot of research of land-based casinos and set out to reverse engineer the physical casino experience and apply our learnings to an online environment. We found that players like to be in a social atmosphere and they actually spend quite a bit of time talking to the dealers at the table or the bartender, high rollers often knowing the staff of the casino very well and becoming friends with them. We asked ourselves, how can we replicate this in an online setting and we believe we have cracked the code!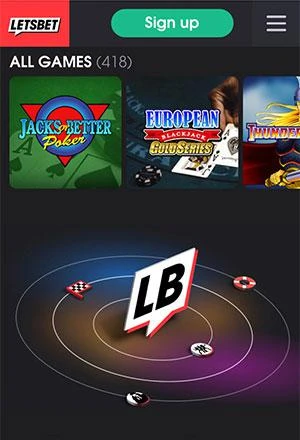 4 – New Casinos are happy to say that the quality, games available and general feeling is above all expectations. You have been selected the top casino of April, 2018. How does it feel?
Answer: Wow, that's amazing! Thank you so much! After having spent more than a year building LetsBet, it feels amazing to be selected as your top casino!
5 – There are almost 20 various game developers at LetsBet already from start. Your own background is from NetEnt, so is it a given to have every single game from NetEnt included? Apart from NetEnt, which are the most exciting and play worthy games you could recommend any player looking for high RTP games with lovely graphics to try out?
Answer: NetEnt is of course close to my heart and I still believe they have the best games out there. However, there are a lot of other good providers out there and we have a great selection of games from the beginning, so there should be something for everyone. Hmmm….if I have to chose a non-NetEnt game that I enjoy at the moment, it would be Easter Island from Yggdrasil, but i'm also a big fan of Northern Sky from Quickspin – both great productions in my view.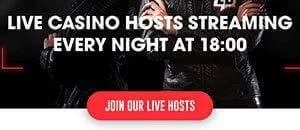 6 – The most exciting and unusual features on LetsBet are the streaming live show, available between 18.00 and 01.00 every day. Here, you can discover various games, and listen to 4 charming hosts that aim to keep you entertained. It's also possible to chat with the hostesses and other players. What kind of topics are you planning to show on Lets Bet's live show? Where are the shows recorded?
Answer: Our Live Hosts will be entertaining players with both casino related topics, but also everyday topics, news and gossip. The style is fun and energetic, relaxed and almost have the same feeling as reality TV shows. The Live Hosts will also do quizzes and extra promotions, where players can earn some extra rewards. Everything is live and our in-house studio is based in Malta.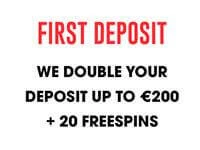 7 – The welcome bonuses package offered from LetsBet starting at 100% up to 200 Euro + 20 extra spins. The wagering is set to reasonable 35x for winnings at bonuses. What can loyal players expect to get for rewards? There is something called missions where players can compete and win awesome prices by simply playing some selected slots. Can you explain a bit how it works?
Answer: Apart from our nice welcome bonus, loyal players will earn points and fill the progress bar. Once filled, they will get a spin on our Spy Spinner wheel, where extra rewards like free spins or bonus money can be won. We also offer casino tournaments, we call them Missions to keep the secret agent theme, these run throughout the day and players can win nice rewards here as well. Lastly, loyal players can also participate in competitions and quizzes during the live streams, where more rewards can be won. A feast of rewards to be honest!
8. LetsBet was officially launched today, and looks fantastic from a design perspective, not like all the normal white labels. It looks like it must have taken ages to develop such as new casino site? Anyway, please explain some insights about what you guys are working on right now and if there are anything you would like to improve at this point in time?
Answer: Thanks for the kind words, we have indeed invested a lot into the product itself, so glad that it shows! We have a very exciting roadmap ahead of us in 2018 with new features and products on the way, but we can't reveal too much for now. It will be an exciting year, that we can promise you – watch this space!
The Story Behind LetsBet Casino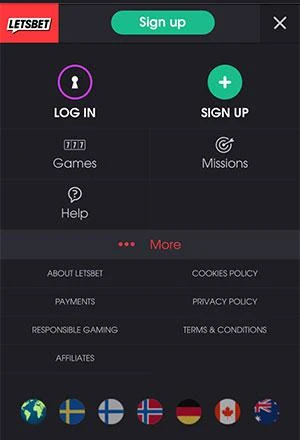 LetsBet was founded by two former casino experts who has dealt with some of the biggest brands in the online gambling world. Gamification is the order of the day at this casino as the developers use their combined expertise to establish the 'new frontier in real money casino'. According to the owners, LetsBet is a mashup of live streaming, social features and gamification. That makes the entire concept of LetsBet well ahead of its game.
When you land on the casino for the first time, you will notice a cool secret agent theme, where players are asked to join as new recruits before moving up the rank by completing various assignments and missions. The designers and developers clearly took their time in coming up with a solid, unique theme that will appeal to a broad range of players and it is definitely fun to participate in. What's more, the casino offers an impressive selection of industry-first features, including daily broadcasts presented by live casino hosts.
Additionally, the casino allows players to add friends, create groups and chat with other players via a handy instant messenger function that will prove to be very convenient and popular. Like most modern sites these days, LetsBet is available to play instantly, excluding the need to download any software and allowing smoother, more seamless and accessible gaming on the go.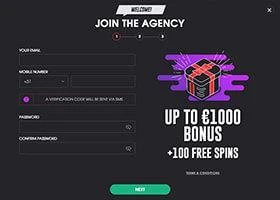 You will immediately want to join the casino once you browse around and discover all the unique and sensational features available to registered members. Joining is easy and rewarding, and while the welcome bonus has not yet been announced, we are confident that it will include some generous chances to claim free money and extra spins as long as you meet the wagering requirements.
We are also looking forward to a range of promotions and special offers to make its debut on the site, which should include a mixture of ongoing and seasonal offers to enhance the gaming experience of all players. The casino could also include a loyalty program and VIP scheme if they really want to impress their customer base and attract new players.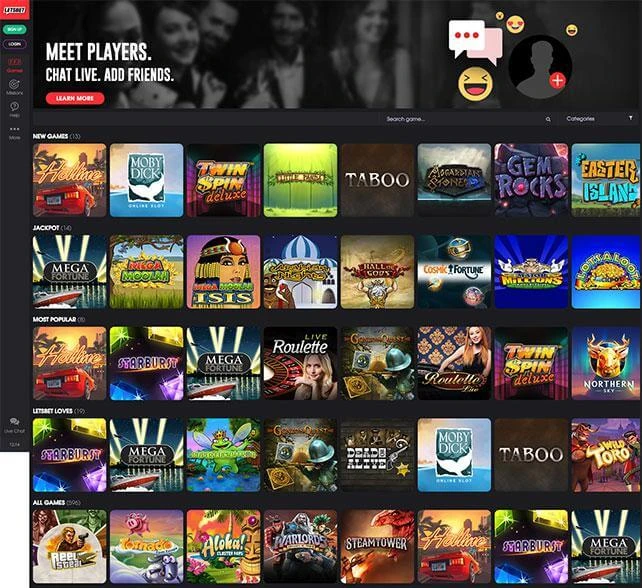 Moving on to the games lobby, players will be happy to learn that LetsBet Casino is a multi-platform site featuring a selection of the biggest software providers in the industry, including NetEnt, QuickSpin, Play n Go, and Yggdrasil. This means that players can expect a fantastic variety of gaming options and experiences to suit all needs.
There will be a diverse range of online slots, table games, video poker and live casino games from which to choose, guaranteeing exciting and interactive gaming anytime, anywhere. LetsBet takes a cool approach to gaming in terms of social and live gambling in many forms, making this casino great for a new wave of gamers, although seasoned players will also enjoy the website as well. We are excited to see where this casino will go and encourage all players looking for something new to jump on board and join the experience.

3 Articles
G. H. Moretto is the Editor at New Casinos.com and Nyecasino.org, also an expert in advertising and casino content with a passion for blackjack tables. He has managed research, content writing, translations and holds a degree in Social Communication with honours in Advertising, bringing to the table a decade of experience in the advertising and online gambling industries combined. Moretto was also directly involved in a Child Gambling project in the UK, which was discussed with several MPs to bring forward legislation changes to protect children. He has reviewed thousands of online casinos, slots and casino games and he definitely knows his way around bonuses, payment methods and trends. This casino enthusiast is an Editor at NewCasinos.com on a mission to reveal all the secrets of the industry with in-depth and unbiased reviews. Moretto aims to educate new and seasoned players about the risks and rewards of all new casinos, their bonuses and features to help players make better-informed decisions.
More info on G. H. Moretto