New CoinsPaid Casinos

CoinsPaid is one of the most effective and fastest crypto payment solutions around. The CoinsPaid wallet helps its users to store and facilitate Blockchain payments instantly.  You can trade cryptocurrencies with fiat currencies as well as make deposits at several online casinos that accept CoinsPaid.
CoinsPaid is one of the latest crypto payment companies that allows users to purchase every type of cryptocurrency out there, including Bitcoin, Ethereum and Litecoin amongst many others.
What makes this stand out among other payment methods, is the fact that it supports more than 30 coins. These can range from Bitcoin, Ethereum, Ripple and Litecoin to a variety of fiat currencies, making it a fantastic all-rounder, that's why so many online casinos now accept CoinsPaid.
Latest CoinsPaid Casinos 2023
If you are looking for a casino that accepts cryptocurrencies, you are in luck. Check out the below toplist of casinos that accept CoinsPaid and other cryptocurrencies.
You can also compare casinos using the NewCasinos comparison tool to discover casinos based on your requirements and needs. Whether you are after a specific type of casino bonus or a game supplier, our tool will help you find just that.
Last update:
April 11, 2023
CoinsPaid Casino UK: Warning
CoinsPaid is a cryptocurrency and although it accepts GBP, it is not widely accepted at UK casinos. Please check with the online casinos of your choice if they accept CoinsPaid or even cryptocurrency payments.
CoinsPaid wallet Short Facts
Currencies
Crypto: BTC, LTC, BCH, ADA, ETH, DOGE, NEO, XRP, REP, USDT, USDTE, EURTE, ERC20, XIN, BNB, BSV, EURS, USDC. Fiat:

EUR, USD, CAD, SEK, AUD, NOK, CHF, RUB, CNY, JPY, NZD, MXN, ARS, BRL, GBP, INR, KRW, THB, MYR, PEN, CLP, KZT, UAH, CZK, PLN, ZAR, TJS, AZN, KGS, NGN, MDL, IDR, VND

Security

Encrypted servers, blockchain ledger and Kaspersky security certificate.

Transaction time

Instant deposits and withdrawals.

Min. Transaction
Defined by the casino.
Deposit Fee
None.
Withdrawal Fee
Limits apply, check T&Cs.
Advantages of CoinsPaid
CoinsPaid casinos are available in various languages, including English, Spanish, Chinese, and Portuguese. It welcomes users from most countries around the world, with some restrictions applied in some countries, especially for some UK casinos.
If you are looking for a quick way to make a deposit or even claim a deposit bonus at top online casinos, then cryptocurrency payments are a safe and effective way to do so. You don't have to fret about safety and speed when it comes to your CoinsPaid wallet since it is completely sound to use.
With dozens of crypto payment gateways and wallets, what makes CoinsPaid casinos stand out from the crowd? Check out the advantages below:
Over 50 coins supported
Each one can be easily and instantly converted into either another cryptocurrency or several fiat currencies. Having this great range is useful not only at online casinos but for online shopping in general. Despite these many options, most UK casinos still need to make CoinsPaid available.
Added security
CoinsPaid is one of the first crypto payment systems to successfully pass an audit by Kaspersky Labs. This is very important because it demonstrates the strength and reliability of the CoinsPaid wallet when compared to other similar payment methods.
Support
With 24/7 customer support as well as a personalised approach to each and every customer, CoinsPaid is ahead of other payment solutions out there. Given that not many players tried CoinsPaid casinos before, having extended support is good to solve any doubts regarding CoinsPaid casinos.
Disadvantages of CoinsPaid
Despite the fact we can find Bitcoin casinos here and there, price volatility tends to be a major problem for most cryptocurrencies. If one can link the value of cryptocurrencies to tangible assets, then this problem could be easily overcome. Since most CoinsPaid casinos are subject to price volatility, most online casinos offer the possibility to choose between a crypto payment or a regular fiat payment.
Price volatility
Price volatility tends to be a major problem not only for fiat currencies but for cryptocurrencies too. If one can link the value of cryptocurrencies to tangible assets like gold or oil, then this problem could be easily overcome. However, this is not the case so before you create a CoinsPaid wallet, consider the risks and if you are comfortable with them.
Cybersecurity problems
There is also a concern that cryptocurrencies may fall in the wrong hands. We have seen cases of cryptocurrencies being hacked and costing investors millions, but obviously, other payment methods can suffer the same fate, which is the case with fiat currencies held in banks not safely protected. Before you open your CoinsPaid wallet make sure you're aware and comfortable with any risks involved.
Regulations
This technology is still not heavily regulated, and there is always an increased risk in investing in new technology. These types of payment solutions may not be accepted everywhere as fiat currencies are, but this is changing fast as more adepts push for a wide acceptance of crypto payment. We hope that UK casinos jump on the bandwagon too.
How to open a CoinsPaid Account
Opening a Coinspaid wallet account is easy peasy. You only need to head to the CoinsPaid website, click on 'Sign Up', provide your details and confirm them. You would then need to input your country from the dropdown menu, and enter your email address and password. You are also required to pick the type of account you require. You can pick between a Personal or a Business account.
After that, you would need to verify your email, and you are basically good to start making your first CoinsPaid deposit. However, until you verify your identity, you will not be able to make a deposit and withdrawal of more than €1,000 per month, and your CoinsPaid wallet features will be limited.
You would also need to send in ID verification which is a regulatory requirement to safeguard against any fraudulent or money laundering activity, this is a requirement of most payment methods and is not related to the online casinos themselves.
To verify your identity, you would need to send in a selfie-style picture as well as a picture of your ID or password, together with proof of address.
How to Deposit at a CoinsPaid Casino
Since CoinsPaid is quite a versatile cryptocurrency, it should be easy to make both deposits and request withdrawals, provided that your online casino of choice accepts cryptocurrencies.
If you are opting to make deposits via Bitcoin or Ethereum, you only need to head to the 'Cashier' section to make a deposit.
You are then presented with an address key that is linked to your casino player account as well as a QR code to scan on your mobile. You would have to opt for one of these methods in order to make a deposit using cryptocurrencies.
Once that is set up, your deposit will be processed instantly. The minimum deposit amount will depend on the casino you are registering to.
How to make a withdrawal with CoinsPaid
Similarly, making a withdrawal with a CoinsPaid wallet is a doddle. Online casino operators that accept CoinsPaid will also allow you to request withdrawals back to this payment method and straight into your wallet.
In order to process a withdrawal, you would first have to request it from the casino. Processing will vary from one casino to another but can take from a couple of hours to several days, depending on how their payment gateways are set up.
However, once that has been processed, your funds should reach you instantly. The minimum and maximum withdrawal amounts will again depend on the online casinos' discretion.
Safety and Security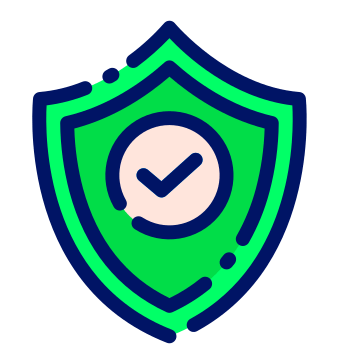 The CoinsPaid wallet is a safe and sound crypto payment method, which as mentioned earlier, has passed the Kaspersky security audit and acquired a certificate proving that their payment solutions follow strict security protocols.
CoinsPaid is also protected with a password and 2-factor authentication, making it extremely difficult to hack into. Additionally, a crypto payment is also encrypted using the latest SSL encryption technology.
CoinsPaid FAQs
1. Are there any fees when using CoinsPaid?
No. Using a CoinsPaid wallet for either making deposits or requesting withdrawals is absolutely free of charge. It is, however, important that you look at the online casinos' payment policies as it might, in turn, charge a fee for using this type of payment method. Additionally, sending any funds to any other e-wallet may incur fees and surcharges.
2. Can I use CoinsPaid at mobile casinos?
Some online casinos accept CoinsPaid, but since this is a relatively new payment method, they might not be available in abundance. That being said, new casinos are continually being added and accepting CoinsPaid payment methods along with other cryptocurrencies such as Bitcoin and Ethereum.
3. Can I claim a casino bonus using a CoinsPaid wallet?
Yes, provided that the casino does not exempt specific payment methods then you can easily claim a deposit bonus. We have seen plenty of cases of casinos excluding Neteller and Skrill deposits from taking advantage of a welcome package. This is why it is important that you always read the terms and conditions of any deposit bonus you want to claim.
4. How long does it take for a deposit to appear when using CoinsPaid?
A deposit and withdrawal can either appear instantly or within a few minutes in your CoinsPaid wallet, thus making it a great banking option at many online casinos.
5. Can I withdraw using CoinsPaid?
Yes. You can withdraw in Ethereum, Bitcoin or more than 30 other cryptocurrencies and some fiat currencies directly to your CoinsPaid wallet. This is why so many online casinos accept CoinsPaid nowadays.