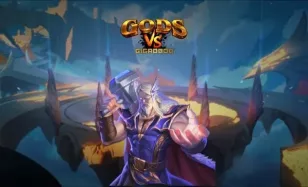 Gods vs Gigablox

4.25/5
Premier Casino

4.25/5
Premier Casino Review
5 Min Read
Gods vs Gigablox is an early December slot game released by Hot Rise Games in collaboration with Yggdrasil Gaming.
If you have played the online slot game Monsters vs Gigablox, then you already have an idea of what to expect when playing this new online slot game. In this game, Thor, the god of thunder, faces the Greek mythological woman Medusa with her hair of snakes and the Chinese monkey king Sun Wukong.
This online slot game comes with the Gigablox mechanic, which means it has the potential to create up to 6×6 block symbols that can cover all reels. The title of this slot game may be a little misleading. You won't see Gods fighting various Gigablox symbols, though there is some sort of battle taking place in the Versus Battle Free Spins round.
The Gods vs Gigablox slot game is built across 6 reels, 6 rows and 50 fixed paylines. This is a highly volatile online slot game that benefits from a payout percentage of 96%. You also have the potential to win up to 10,225x your bet, which although slightly lower than that of other slot games, is considered quite good. There are also many in-game features to compensate.
When it comes to symbols, you can find a mix of card-suit numbers as well as various gods. The lowest paying symbols are the playing cards which pay out 1.5x your bet for six of a kind. The higher-paying symbols include various gods. This includes Sun Wukong the Chinese monkey king, Kitsune the infamous Japanese fox, Ares the Greek god of war, Anubis the Egyptian god of the dead, Medusa as well as Thor. They can pay between 2.5x and 15x your stake for six of a kind.
There is also a wild symbol as well as a Scatter symbol and Versus symbols that help trigger various features.
Short facts
Developer: Hot Rise Games in collaboration with Yggdrasil Gaming
RTP: 96%
Volatility/Variance: High
Layout: 6 x 6
Paylines: 50 fixed paylines
Bonus features: Wilds, scatter symbols, versus symbols, free spins bonus round, Versus Battle Free Spins and Bonus Buys
Bets: £0.50 to 20
Max wins (coins): 10,225x your stake
Gods vs Gigablox jackpots
This online slot does not come with any Gods vs Gigablox jackpots attached.
Gods vs Gigablox free spins
The Gods vs Gigablox slot game comes with two types of free spins bonus rounds. We'll mention in more detail the more traditional version here.
If you land five or more scatter symbols anywhere on the reels, you will be awarded 8 free spins. The most dominant god from the triggering spin will transform into a wild symbol. During this round, all Gigabloxes will also showcase one of the gods, which can lead to spectacular wins.
You also have the option to retrigger the free spins bonus round. If this happens, you will be awarded once again with 8 more free spins if at least five scatter symbols appear on a single spin.
Gods vs Gigablox bonus features
There are many more features than the free spins bonus round available in the Gods vs Gigablox slot game. These include:
Wilds
The Crown symbol acts as this slot game's wild symbol. It will help create winning combinations by replacing other symbols. It cannot replace either the versus or the scatter symbols.
Gigablox Symbols
The Gigablox symbols can come in different shapes and forms in this slot game. They can vary from 2×2 going up to 3×3, 4×4, 5×5 and 6×6. If it forms part of a winning combination it will burst into small regular-sizes symbols before paying out your winnings.
In the base game, the Gigablox can drop on any symbol on the reels. However, during the Battle and the free spins bonus features, the Gigablox can only feature one of the gods.
Scatter Symbol
The Vs symbol acts as the game's scatter symbol. If you land at least five or more of these scatter symbols on a single spin, you will activate the free spins bonus round. You will also earn 1x your stake for every scatter symbol triggered.
Versus Symbol
The Versus symbol comes in different letters that spell out the word Versus. The letter V can only pop up on the first reel while the letter E turns up on the second reel and so on and so forth. If you land all six letters on a single spin, you will activate the Versus Battle feature.
Versus Battle Feature
This feature can only be activated when you land all six letters making up the word Versus on a single spin. When this happens, a challenger and a champion will be randomly picked before you can kick off your six free spins.
The champion will stand to the left-hand side of the reels, while the challenger will stand to the right-hand side. When corresponding symbols land on the reels, they will be added to a meter to the sides of the reel setup.
If you succeed in collecting symbols, you can be rewarded with various perks, including wilds, multiplier wilds, symbol multipliers, more free spins as well as cash prizes. This feature comes to an end when you run out of free spins.
Gods vs Gigablox RTP
The Gods vs Gigablox RTP stands at 96%, which is the average payout percentage for most online slot games these days. This is also a highly volatile online slot game, so careful attention must be paid to your bankroll as you will go through a few spins without hitting wins.
Verdict
The design of the Gods vs Gigablox online slot game is one that is akin to video games. Players can sit down and enjoy battles between various gods. The Gigablox mechanic adds something extra to the base game though, without it, the game still has a few good extras to keep you pinned to your seat.
The fact that the game comes with two different free spins bonus rounds makes it highly appealing. The regular free spins bonus round is enticing, but nothing is quite as attractive as hitting the Versus Battle Free Spins feature.
The payout percentage is bang on average, and though the volatility is quite high, you can expect to be rewarded accordingly albeit not too frequently.

Author
Online Slot Expert
115 Articles
115 Articles
Leanna Madden is a well-known figure in the online slots community, where she has made a substantial mark as an expert in her domain. With her role at NewCasinos, Leanna has established herself as a reliable and respected authority on all things slots, providing players with priceless knowledge and unparalleled expertise.
Expert On:
Best Online Slots
New Slot Sites
RTP & Volatility
More info on Leanna Madden