A Guide to Online Backgammon
– Backgammon Rules
– Backgammon Strategy
– Backgammon FAQ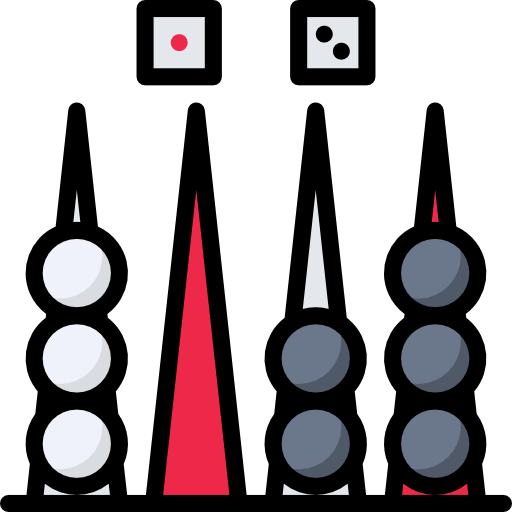 The game of Backgammon is one of the oldest games around. It made its first appearance no less than 5,000 years ago, making it one of the oldest board games around. It is still enjoyed all over the world today and is available both in its traditional board game format and in its online counterpart with real money bets.
Most people play it for entertainment purpose, but gambling on Backgammon is also quite popular.
The main aim of the game of Backgammon is to get off all of your 15 game pieces (aka checkers or men) off the board before your opponent does. The game requires both an element of skill, as well as luck since your choice of moves is strictly limited to the roll of two dices. Similarly, a level of strategy is required in order to achieve a maximum level of success when you play backgammon for real money.
A player who knows the rules and has a strategy in place is very likely to beat weaker players at online casinos.
Backgammon betting is done by doubling your stakes, with the aid of the doubling cube. If the player feels like they are in an excellent position, he can proceed to challenge his opponent to turn the doubling cube to the two positions.
As a result, the opponent has two indispensable options, namely to accept the challenge or to forfeit. If the challenge is accepted, the game proceeds for two units. Now, the opponent owns the doubling cube, which means he can always challenge the first player to a double. This goes on until they reach 64 units.
Backgammon Casinos Online 2023
If you are a fan of earning bonus cash whilst playing at an online casino, then you will love the selection of games and new online casinos offering backgammon in 2021.
All the recommended backgammon casinos available on this page have been thoroughly vetted for safety and security, licence and payment vendors.
Last update:
September 22, 2022
Backgammon Rules
Backgammon games revolve around two players' attempts to remove all of their own checkers (just one of several names for the playing pieces) from the board before their opponent removes theirs. Players can block and hit each other's checkers as the play goes on, leading to more strategic play and careful consideration. Both sides of a Backgammon board feature 12 long triangles (or points) and are numbered 1 to 24. Generally, players will start with 15 playing pieces arranged at specific parts of their board (two on the 24th triangle, three on the 8th, and five on the 13th and 6th).
Players then start to position their checkers along with the board after rolling the dice: they will move playing pieces based on the number rolled, with players taking turns until their checkers are taken off the board entirely. If a player were to roll a 4 and a 1, they would need to move one playing piece four points ahead, and another just one. Once all pieces are in a player's own area, they can start to remove them based on the numbers they roll (for instance, getting a 5 on a die would allow you to take a checker from the 5th point, a 2 from the 2nd point etc.).
When playing backgammon online, checkers move somewhat faster than they do in offline games, and the setup stage is much quicker (with difficulty levels, checker colours, and other options available for customization). Dice-rolling is typically performed by clicking on virtual dice. Multiple variations of backgammon are available online, including Hyperhammon and Acey-deucey.
Playing Backgammon: Starting Layout
To kick off a game, you would first have to arrange your 15 checkers in their right and appropriate starting positions. If you are playing backgammon online, this will be automatically set up for you.
Checkers must be set up as follows:
Five checkers on your 6-point
Three checkers on your 8-point
Five checkers on your 13-point
Two checkers on your 24-point
Your opponent will also set up their checkers opposite yours before you can play the game.
Backgammon board terminology
Doubling cube: The die that is on the right-hand side of the board and includes numbers 2, 4, 8, 16, 32 and 64. The purpose of the cube is to boost the starting bet several times.
Bearing off: The main purpose of the game of Backgammon is to bear off your checkers. The only way to do this is by moving all of your 15 checkers to your home boards. Once you have done this, you can roll your dice, and pick a checker from your home points.
Blot:  A blot is when a point is occupied by one checker. If your opponent has a blot, you can effectively hit his checker and remove it from the board.
Backgammon for Real Money Vs Free Play
Whether you are a novice or an experienced player, playing Backgammon for money depends on a variety of factors, namely your bankroll size, betting sizes and your knowledge of the game, including rules and strategies.
Not knowing how to play the game can cost you severely. This is why playing Backgammon in free play mode could save you money and hassle, especially if you are still learning the ropes to the game.
Once you are confident that you know how the game pans out, playing Backgammon for money will be straightforward. How big your bet sizes will depend on your bankroll and how much you'd like to spend.
However, even if you know the game well, it is always recommended that you try out Backgammon online in demo mode to ensure that you are familiar with the rules and gameplay.
Backgammon Online Bets & Scoring
There are various ways to earn points as well as different betting systems when you play backgammon for real money. You can earn points in different ways, including:
The winner gets one point when the opponent has chequers no longer in the winner's home grid
The winner gets two points when the opponent has not borne off chequers when the winner has won. This is also known as a Gammon.
When the opponent has not borne off chequers and still has chequers in the winner's home grid. The winner earns himself three points.
Backgammon Odds
Each side of the die has the same equal chance of landing face up. In total, there are six possible outcomes. Each number has a 1:6 probability of turning up on any roll.
However, when rolling the dice, you would have to consider each dice separately. Each roll is independent of the other in terms of odds.

Backgammon Strategies
Here are a few strategies to help boost your chances of winning when you play backgammon for real money.
Take advantage of a higher pip count. When you find yourself leading ahead of your opponent, break away from any blocking checkers as soon as you can. Likewise, if you're behind your opponent's pip count, concentrate on making your own home board as strong as it can be – you may well have time to start moving later on
When it comes to removing pieces from the board, don't waste rolls moving checkers when you can 'bear off' one instead. Focus on clearing your home board first!
As you get used to online backgammon's rules and flow, experiment with the doubling cube. This replaces the normal dice, and is a tad bigger, featuring 2, 4, 8, 16, 32, and 64. You should read up on this first, but adding a doubling cube can make for more exciting stakes and speed gameplay up.
Be careful when blocking your opponent's playing pieces – make sure you aren't leaving your own exposed. Blocking can be incredibly effective when done at the right time, but don't let this make you complacent either; use every opportunity you can to bring your checkers closer to bearing off.
Running
A running game only happens when both the player and the opponent have succeeded in advancing their runners to safe outposts. If they have successfully done this very early in the game, they have both reduced the chances of hitting a blot.
A running game is essentially a game where the dice dictate the outcome. The player who rolls the higher numbers and make no movement errors is declared the winning.
Blockade play
The Blockade strategy is best applied during the early stages of the game. The main aim of this strategy is to trap your challenger in your home area.
A Blockade ultimately entails a series of points formed by blocking your opponent with your chequers and preventing him from moving forward. When this happens, you also prevent your opponent's chequers from escaping the home board.
Priming
The Priming strategy is probably the most advanced backgammon strategy. A prime is, in essence, a row of blocking points that are applied to trap enemy checkers. The best way to do this is to form a row of fixpoints, to block your opponent's chequers behind a wall.
These pieces are then trapped for as long as you can keep up the prime, which will result in a frustrated opponent and possibly getting your checkers off the board first.
Blitzing
The most brazen strategy one can apply when playing backgammon, Blitzing involves a direct attack on your opponent's chequers, to keep him on the bar while you can move your chequers into your inner table as fast as possible.
The main goal of this strategy is to keep out the opponent's piece by having 16 points on your inner table.
It is the most challenging of strategies since once you start your attack, you need to be committed to take risks and to apply changes to win additional points
The Holding & Back Backgammon Strategy
While the Holding game aims to achieve control by keeping a point located in your opponent's board, the Back game is achieved by controlling two or more points in your opponent's inner board.
In order to achieve success when using the Back strategy, you need to establish two anchors and to have at least 10 checkers in advancement to barricade your opponent if you hit.  You also need an element of timing, whereby a back game that has higher points such as 2 and 4 can prove stronger than those entailing an ace point.
Similarly, when you are opting for the Holding game, you should aim to have 20 points or bar points to boost your chances to hit your opponent.
Backgammon Tips & Tricks
To become a Backgammon player extraordinaire, you need to know the rules and strategies well, but a few tips and tricks can help you go a long way:
If you are behind in the race, it is not all bad news. It can actually improve your timing to eventually hit again and give you a better back game.
If you are well ahead in the race, break contact and use racing to your advantage.
If you are unsure about your next move, hit.
The bad-point is always valuable, but if you have the option, it would be smarter to make a four-point or five-point.
If you have a few checkers or pips left, you have a good double.
Loose sixes are best played on your opponent's inner board.
When strategizing, it is always best to duplicate your opponent's constructive numbers.
If you are only 2 points away, try your best for the undoubled gammon, rather than falling for an early cube.
If you are stuck, it's wide to lock up your permanent assets.
Playing Online Backgammon for Money
Playing online backgammon for money takes your gaming experience up to the next level. We always recommend that you first play online backgammon in demo mode to ensure that you are familiar with the rules of the game variant.
Once you are confident to play for real money, you have an abundance of options.  Here are some of the most popular types of online backgammon:
Classic Backgammon: The game is played out using standard rules.
Long Gammon: Similar to the classic backgammon, but all of the checkers are placed on point 1.
Acey Deucey: This Backgammon variant sees you having to bear your checkers on before you can bear them off the board. If you roll a 1 and 2, you can further play the roll and choose doubles. You also earn yourself an extra turn.
Multiplayer: Play Backgammon against other real-life opponents online.
One of the key benefits of modern times is that most games are available in their digital format. These advancements in modern technology have opened up various paths, whereby players can play against other players online, no matter where they are based.
As with any game available both on- and offline, different backgammon players have their own preferences. Being able to hop online and play a few rounds of your favourite game is a major advantage of today's technology, but it's not for everyone. The most significant difference between online and offline backgammon is convenience: you have access to online casino games 24/7, whether you want to play against someone else or the software itself. This is ideal for fans who work unusual shifts or who lack fellow players in their social circle.
The social aspect of playing backgammon is obviously affected when going online. You no longer get to sit face-to-face with your opponent, and so are unable to read their body language or movements. The pleasure of making conversation might be retained through online chat, but some people prefer face-to-face interaction.
Another big difference? Online backgammon tends to keep track of your pip count, whereas you need to do this yourself in offline games. While writing it down is one solution, other players may be prone to forgetting, disrupting the flow of the game. Online games will monitor movements too, so illegal ones will be detected. In offline backgammon, it's up to players to record the fairness of their own choices – which may lead to cheating or taking advantage of other players' inexperience.
You can avail yourself of numerous Backgammon casino sites and play it online for real money.
Backgammon Betting Bonuses & Promotions
If you are good at the game of Backgammon, you can easily win money by gambling. Taking advantage of a Backgammon betting bonus gives you a good advantage since you can double the money deposited and have a bigger bankroll in order to stretch out gameplay.
The majority of online gaming sites provide players with a sign-up bonus in a bid to lure new customers to sign up. Most of these offers are either in the shape of a no deposit bonus (where you are provided with a bonus without having to make a deposit first) or a first deposit bonus (where the site matches the amount deposited by a percentage).
Though bonuses are great on paper, they come with important terms and conditions, such as minimum play requirements before you can withdraw your winnings, maximum bets and game exclusions.
Even so, bonuses are a great incentive. Once you become a loyal player, there are also plenty of perks and rewards in store.
Deposit & Cashout at Backgammon Casinos
In order to play at Backgammon casinos, you would first have to deposit your funds. It is important that you read the fine print before making a deposit. Minimum deposit amounts vary from one Backgammon casino to another.
As previously mentioned, if you are aiming to take advantage of a casino bonus, it is important that you read the terms and conditions. For example, live casino games don't contribute towards wagering requirements at a number of casinos.
These are important factors to take into consideration and to pay close attention to since it could make cashing out your winnings a hassle.
You also always have the option to forego the casino bonus, and to play with your real money solely. As long as you have the minimum withdrawal amount, you are free to cash your winnings out.
Software Providers Building Backgammon Games
There are numerous software game providers creating and producing Backgammon games. These include the likes of Arkadium, GammonShark, Merger Gaming, Skill Empire and Skill on Bet.
We hope this guide has helped quench your online backgammon cravings! It's a fun, fast, exciting game that has stayed so consistently popular with good reason. Countless online casinos allow you to play for free before committing real money to it, regardless of how experienced you are. Give it a try, and you may discover a whole new passion for playing backgammon.

Backgammon Online FAQs
1. What is the Crawford rule when playing Backgammon?
The Crawford rule is when a player reaches a total score short of one point in a match. In this case, neither the player nor the opponent can offer a double in the subsequent game.
2. Why is it called Backgammon?
The word Backgammon means 'back game' since the aim of this game is to make your 'men head home', which mean simply taking your checkers off the board and thus winning.
3. What is the Beaver rule in Backgammon?
This rule is often applied in real money rounds, whereby one of the players accepts a double and can immediately redouble (Beaver) without renouncing the cube.
4. Why is the 5 point so important when playing backgammon?
The main reason for the importance of the 5 points is that it immediately lets you rob your opponent of an advanced anchored or re-entry of the bar. It helps you establish two inner board points.
5. What are the best opening moves in a game of backgammon?
The best opening numbers are 3 and 1. With a total of four pips, you are well set early in the game.
6. What is a Pip in a game of backgammon?
A pip is a measure of how much you must move your checkers to get them off the board and bear off.
7. Do you have to roll the exact number to bear off?
In order to bear off, you must get all of your 15 checkers to your home board. To bear off one checker, you would need the exact number to remove it. You would have to bear off a mon on the 3 points by rolling a 3.
8. What is The Double Cube?
It is the equivalent of dice in Backgammon. It is larger in size and includes numbers 2, 4, 8, 16, 32 and 64 on each of the faces.
9. Is Backgammon played in casinos?
Yes. You can play Backgammon for money at most online casinos.
10. How do you gamble real money in Backgammon?
To gamble in Backgammon, you would need to assign a monetary value to each of your points and to play up to a specific score or until a player decides to end the game.
11. Can you play backgammon online for money?
Yes. Playing online Backgammon for money can be a safe and rewarding experience, provided you play at a licensed and regulated online casino.
12. Which are the best online backgammon sites?
There are numerous Backgammon sites available for players. Check out one of the casinos promoted on this page to sign up and to play for real money.
13. Is it possible to play Backgammon for real money on mobile?
Yes. Most casino games these days have been upgraded using HTML5 to make them compatible with a wide range of devices. The same applies to Backgammon.
14. How many pieces are in a backgammon set?
In total, there are fifteen pieces (checkers) in a game of Backgammon.
15. Who goes first in backgammon?
You and your opponent must each roll a die. The player who has the highest number goes first.
16. Can you make money playing backgammon?
Yes. If you gamble and play for real money, just make sure that you know the rules and regulations of the appropriate Backgammon variant.
17. Is Backgammon hard to learn?
Not at all. It is very easy to learn but slightly more difficult to master.
18. How do you bet on backgammon?
Betting in Backgammon is carried out by placing a wager per point.