Betfred Fined Over Safety Checks

Betfred hit with almost £2.9m over safety check failings
Prominent UK bookmark Betfred has been fined nearly £2.9m for failings in money-laundering controls and social responsibility. The problem arose from accepting thousands of pounds from gamblers without running the appropriate safety checks as is customary in the industry.
The UK Gambling Commission has said that one player was allowed to lose a total of £70,000 in the span of 10 hours a day after signing up for an account. Another player was only subject to various safe gambling measures after losing £10,000. Four months later, the customer made more deposits, coming up to a total of £323,715 and lost a large sum of £69,371.
The UKGC also pointed out that the company failed to apply the proper controls to prevent money laundering.
Betfred, owned by brothers Fred and Peter Done, will now have to fork out a total of £2.87m towards the penalty. Betfred will also receive an official warning from the UK Gambling Commission.
Leanne Oxley, the UKGC's director of enforcement and intelligence, said: "This is a further example of us taking action to investigate and sanction alarming failures. We expect this gambling business and all other licensees to review this case and look closely to see if they need to make further improvements to demonstrate active compliance. Where standards do not improve, tougher enforcement will follow."
This latest fine which has impacted one of the UK's most established high-street bookmakers comes at a time when the UK industry is being analysed closely amid a government review of the gambling laws, which the Labour government introduced in 2005.
Since this review was announced, there has been a sudden rush in the gambling industry to showcase an improved commitment to safer gambling. During this time, many prominent online casinos and bookmakers have been severely penalised for licence transgressions.
This month, online casino Betway was also fined more than £400,000 after its marketing material was found on the children's section of the West Ham United website. Similarly, in August, Entertain was fined a record £17m for its inaction in safeguarding problem gamblers.
A spokesperson for Betfred has said: "We will work with the UK Gambling Commission and continually review all our anti-money laundering and social responsibility policies. During our assessment, the commission found no evidence of criminal activity. We remain committed to providing a safer gambling environment for our customers."

Last update: 12 months ago
100 Bonus Spins
Deposit bonus
No cryptocurrencies accepted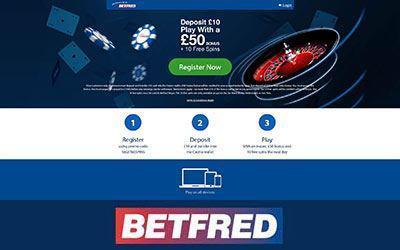 Licensed in the United Kingdom
Everything in one place, online casino, live casino and sports betting.
Good bonus for international players
Wide selection of games
Decent live casino
Bonus for UK players too small
Mentioned in this Article